My Name Is Earl
When petty criminal Earl Hickey wins the lottery, he sets off on a quest to repair his questionable karma.
Skådespelare
Jason Lee

Earl Hickey

Ethan Suplee

Randy Hickey

Nadine Velazquez

Catalina Aruca

Jaime Pressly

Joy Turner

Eddie Steeples

Darnell Turner

Mike Cochrane

Crab Shack Regular

Noah Crawford

Young Earl
Visa fler skådespelare
Senaste inspelade avsnittet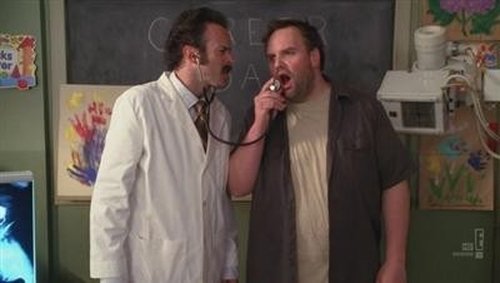 Dodge's Dad
2009-05-14 | avsnitt 27
When Dodge (Louis T. Moyle) tells Joy (Jaime Pressly) he doesn't want Darnell (Eddie Steeples) to speak at career day, she enlists Earl (Jason Lee) to pretend to be his father. Things don't go well and Earl realizes Dodge needs to know his real dad. Despite Joy's protests, Earl enlists Randy (Ethan Suplee) and Catalina (Nadine Velazquez) to help him hunt down the deadbeat dad, but what they discover is worse than they could have imagined.
Säsonger för My Name Is Earl
Säsong 4

2008 | 27 avsnitt

The fourth and final season of My Name Is Earl originally aired from September 25, 2008 to May 14, 2009 on NBC.

Säsong 3

2007 | 22 avsnitt

The third season of My Name Is Earl originally aired from September 27, 2007 to May 15, 2008 on NBC.

Säsong 2

2006 | 23 avsnitt

The second season of My Name Is Earl originally aired from September 21, 2006 to May 10, 2007. The season consisted of 23 episodes. The DVD was originally released on September 25, 2007. It's bonus material included deleted scenes, commentary tracks on selected episodes, as well as other features. Unlike the previous season, there was a loose story arc, in which Joy steals a truck and accidentally kidnaps a man inside it. As this was her third strike, Joy faces life imprisonment, leading to her trial in the season finale.

Säsong 1

2005 | 24 avsnitt

The first season of My Name Is Earl, an American television series created by Greg Garcia, that aired its pilot episode on September 20, 2005 at 9:00 p.m., ET/PT, on NBC, a U.S. broadcast television network. The DVD set was released on Region 2 on September 25, 2006 and on Region 1 on September 19, 2006. Its bonus material included: commentary for each episode, bloopers and deleted scenes. The show is broadcast in English, however in other countries it will be in other languages, there are also English subtitles. Season 1 of My Name Is Earl runs for about 526 minutes and about 20 minutes for each episode. The season 1 DVD is produced by 20th Century Fox Home Entertainment. Most episodes from the first season begin with Earl presenting the premise of the series:
Visa alla säsonger
Serien är skapad av
Greg Garcia