Railroad Australia
Discover what it takes to transport ever-growing numbers of passengers and crucial resources across Australia. With unprecedented access we go behind the scenes to meet the train drivers, locomotive servicing crews and track maintenance teams on some of the toughest and most spectacular journeys.
Visas på följande playtjänster
Senaste inspelade avsnittet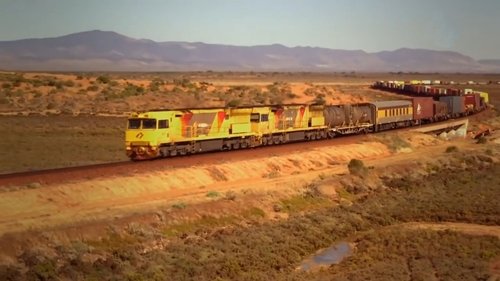 2017-10-19 | avsnitt 13
The sugar train is desperate to meet its deadline in the rush to crush the first cane harvest of the year, while "Mr. Fix It" John Mackie continues his crusade to bring loco 602 back to life.
Säsonger för Railroad Australia
Säsong 2

2017 | 13 avsnitt

Season 2 heads deeper into the lives of the drivers, crews, and maintenance teams on some of the world's heaviest and longest trains across the toughest and most inhospitable continent on the planet.

Säsong 1

2016 | 8 avsnitt

In a wild frontier world of blistering heat and vast distances, an army of workers toil day and night to keep the nation's lifeblood flowing... with a little help from some of the biggest and most powerful trains in the world. Australian rail operators are world leaders in heavy haul rail freight, moving some of the longest and heaviest freight trains in the world.