Modern Family
Om det komplicerade livet hos en amerikansk familj. I centrum står Jay Pritchett som har vuxna barn, barnbarn, en vacker ung fru och ett nyfött spädbarn. Det är ingen lätt uppgift att försöka hålla ihop familjen när alla har starka viljor, men när det gäller ställer de alltid upp för varandra.
Skådespelare
Jesse Tyler Ferguson

Mitchell Pritchett

Sarah Hyland

Haley Dunphy/Haley Dunphy Marshall/Haley Marshall
Visas på följande playtjänster
Kommande sändningar
Inga tablålagda sändningar de närmsta sju dagarna.
Senaste inspelade avsnittet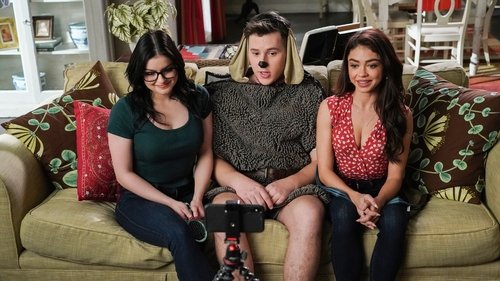 The Finale Part 2
2020-04-08 | avsnitt 18
The entire family discovers saying goodbye is much harder than it seems.
Säsonger för Modern Family
Säsong 11

2019 | 18 avsnitt

Jay and Gloria are navigating life with their youngest son, Joe, while Manny has headed off to college to explore the world on his own terms. Meanwhile, Claire and Phil have officially lost their status as empty-nesters when Haley started her own family and moved back home with her new husband, Dylan, and a set of twins. Luke, is now looking to his next move; and Alex is learning how to balance life outside of academia. Then there's Mitchell and Cameron, who are still working to understand their gifted teenage daughter, Lily, and juggle busy careers.

Säsong 10

2018 | 22 avsnitt

Säsong 9

2017 | 22 avsnitt

Säsong 8

2016 | 22 avsnitt

Säsong 7

2015 | 22 avsnitt

Säsong 6

2014 | 24 avsnitt

The honeymoon is over, but the laughs continue in season six of Modern Family. As freshly hitched Cam and Mitch acclimate to the realities of wedded bliss, Phil and Claire find their marriage stressed by annoying neighbors, Thanksgiving dinner gone awry and Claire's online snooping. Meanwhile, a spy-camera drone wreaks havoc in Jay and Gloria's backyard and a close call on the highway leads to amusing changes in various members of the Pritchett-Dunphy clan.

Säsong 5

2013 | 24 avsnitt

Wedding bells are ringing in season five of Modern Family. As Cam and Mitchell bicker over plans for their big day, the rest of the family has its hands full adapting to new jobs, new schools, and a new male nanny. There are babysitting disasters, an anniversary to celebrate, misguided male bonding, and everything from high-stakes poker to high-maintenance in-laws.

Säsong 4

2012 | 24 avsnitt

With Jay and Gloria's baby on the way and Haley going off to college, the entire Pritchett-Dunphy clan faces some major surprises as they bicker and bond over house-flipping headaches, unwanted play dates, and everything from hot-tempered hormones to in utero karaoke.

Säsong 3

2011 | 24 avsnitt

As the extended Pritchett-Dunphy clan faces an uproariously unpredictable array of family vacations, holiday hassles, troublesome in-laws, and surprising secrets, they still somehow manage to thrive together as one big, loving family a even as they drive each other absolutely insane!

Säsong 2

2010 | 24 avsnitt

While fledgling fathers Cameron and Mitchell struggle with learning the ropes of parenthood, long-time parents Claire and Phil try to keep the spice in their marriage amid the chaos of raising three challenging children. Meanwhile, family patriarch, Jay, has more than his hands full with his sexy, spirited wife, Gloria, and her sensitive son.

Säsong 1

2009 | 24 avsnitt

Modern Family takes a refreshing and funny view of what it means to raise a family in this hectic day and age. Multi-cultural relationships, adoption, and same-sex marriage are just a few of the timely issues faced by the show's three wildly-diverse broods. No matter the size or shape, family always comes first in this hilariously "modern" look at life, love, and laughter.
Visa alla säsonger
Serien är skapad av
Christopher Lloyd

Steven Levitan