American Dad!
The series focuses on an eccentric motley crew that is the Smith family and their three housemates: Father, husband, and breadwinner Stan Smith; his better half housewife, Francine Smith; their college-aged daughter, Hayley Smith; and their high-school-aged son, Steve Smith. Outside of the Smith family, there are three additional main characters, including Hayley's boyfriend turned husband, Jeff Fischer; the family's man-in-a-goldfish-body pet, Klaus; and most notably the family's zany alien, Roger, who is "full of masquerades, brazenness, and shocking antics."
Skådespelare
Seth MacFarlane

Stan Smith / Roger (voice)

Wendy Schaal

Francine Smith (voice)

Rachael MacFarlane

Hayley Smith (voice)

Scott Grimes

Steve Smith (voice)

Dee Bradley Baker

Klaus (voice)
Senaste inspelade avsnittet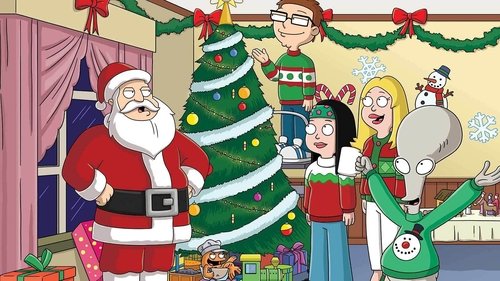 Yule. Tide. Repeat
2020-12-21 | avsnitt 24
After Stan's plan for the perfect Christmas goes terribly, tragically wrong, he's given a magical opportunity to make things right.
Säsonger för American Dad!
Säsong 18

2021 | 1 avsnitt

Säsong 17

2020 | 24 avsnitt

Säsong 16

2019 | 20 avsnitt

Säsong 15

2018 | 21 avsnitt

Säsong 14

2016 | 23 avsnitt

Säsong 13

2016 | 22 avsnitt

Run for your lives! Or better yet, "Stan" your ground and enjoy this all-new collection of American Dad! episodes from the explosive comic minds of Mike Barker, Matt Weitzman and Family Guy creator Seth MacFarlane. Stuffed with celebrity guest voices, including Billy Bob Thornton, Joan Cusack, Sam Elliott, Oliver Platt, and not heavy metal rock god James Hetfield, this hilarious assortmend finds the Smith family in a flood of trouble aboard Stan's modern-day ark, a time-travelling Steve trying to save his cool future self, Roger deciding to quit all his personas, and everyone fighting to survive the post-apocalyptic 200th episode.

Säsong 12

2014 | 15 avsnitt

Get ready for full-scale hilarity and huge laughs with this all-new collection of American Dad! episodes from the comically oversized minds of Mike Barker, Matt Weitzman and Family Guy Creator Seth MacFarlane. Bulging with celebrity guest voices, including Kristin Chenoweth, Ted Danson, Kim Kardashian, Dean Norris, Mickey Rooney and Uma Thurman, this outrageous assortment finds Stan miniaturized after seeing a shrink, Steve embraces his inner lesbian, Roger crushing on a crash-landed alien , and the return of Jeff from space?.

Säsong 11

2014 | 3 avsnitt

Säsong 10

2013 | 20 avsnitt

Belly-laugh up to the bar, folks… and satisfy your thirst for hilarity with the all-new collection of uncensored American Dad! episodes from the spirited minds of Mike Barker, Matt Weitzman and Family Guy creator Seth MacFarlane. Loaded with celebrity guest voices, including Mariah Carey, Terry Crews, Mark Cuban, Zooey Deschanel, Danny Glover and Olivia Wilde, this intoxicating assortment finds Stan fired from the CIA, Francine haunted by a sex-starved ghost, Steve kidnapped by a Christmas demon, and Roger and Klaus on a 100,000-mile road trip. Please watch responsibly.

Säsong 9

2012 | 19 avsnitt

Take a "Stan" against boring, bipartisan comedy with this all-new collection of hilariousuncensored American Dadl episodes from the infinitely creative minds of Mike Barker, Matt Weitzman and Family Guy creator Seth MacFarlane. This outrageous assortment finds Stan and Klaus switching bodies, Steve joining a boy band, Jeff being held prisoner in space, and Roger falling hard for his latest crush...Hayley!

Säsong 8

2011 | 18 avsnitt

Let your American freak flag fly when you watch this all-new collection of outrageous episodes from the comic minds of Mike Barker, Matt Weitzman and Family Guy creator Seth MacFarlane. Follow the adventures of CIA operative Stan Smith's quirky family as they deal with Stan and Francine's killer hot tub, Steve's lucky panties, Hayley and Jeff adopting an evil child, and Roger wrestling his way into the record books. Loaded with celebrity guest voices, including Sarah Michelle Gellar, CeeLo Green, Alyson Hannigan, Patrick Stewart, Amy Sedaris and more, American Dad! Volume 8 is a star-powered salute to patriotic parody and hardcore hilarity!

Säsong 7

2010 | 19 avsnitt

It's a time once again to let it all hang out with an all-new volume of animated outrageousness! From the disturbed comic minds of Mike Barker, Matt Weitzman, and Family Guy creator Seth MacFarlane, comes the always insane adventures of CIA operative Stan Smith and his wonderfully twisted family. In the 100th episode, Hayley elopes with Jeff! Other episodes include Stan on jury duty, Steve walking in on his amorous parents, Roger dating Steve's best friend, and yet another American Dad Christmas classic. Plus, there are serial killers, Turkish amphetamines, and evil clones! So, you know, the usual!

Säsong 6

2009 | 18 avsnitt

Trigger-happy CIA operative Stan Smith will stop at nothing to defend everything that makes this country great – from strip bars to that most sacred of American institutions, crack cocaine! Whether he's trading brains with a racehorse or rescuing Roger from bloodthirsty revolutionaries, Stan will do whatever it takes to secure the blessings of liberty in this over-the-top salute to the greatest nation on Earth.

Säsong 5

2008 | 20 avsnitt

The hilarious, over-the-top adventures of CIA Agent Stan Smith - a red-white-and-blue-blooded, one-man war on terror - and his delightfully dysfunctional family. Volume Five celebrates that great American pastime - revenge! Steve and his friends strike back at Bar Mitzvah boy - Etan Cohen for stealing Steve's girlfriend, Francine puts Stan through the ringer when she finds out he's picked a back-up wife, and Roger unleashes deadly hotdog havoc throughout Langley Falls - all in the name of good old-fashioned vengeance. Getting even is the American way, so don't get mad...get American Dad!

Säsong 4

2007 | 16 avsnitt

Attention, terrorists, pinkos, and hippies: your days are numbered! CIA Agent Stan Smith is back, stopping at nothing to make the world safe for right-wing democracy and provide for his outrageously dysfunctional extended family. Amid botched kidnappings and beefcake body doubles, Stan hosts a torturously funny CIA telethon; his wife, Francine, is reunited with her ex-fiance; and resident-alien Roger hosts a booze-soaked spring break that may just push favorite son Steve all the way through puberty. God bless American Dad!

Säsong 3

2006 | 19 avsnitt

C.I.A. weapons expert Stan Smith is back, keeping the homeland secure while alienating his family and terrorising his neighbours in the process. Whether he's saddling up for a mad cow cattle drive or destroying evidence of President Bush's drunken debauchery, Stan does whatever it takes to ensure domestic tranquility and make the world safe for democracy of the ultra-right-wing variety! Join the Smith family and Roger, their alcoholic pet alien, for this hilarious Volume Three of 'American Dad!' God Bless America!

Säsong 2

2005 | 16 avsnitt

Terrorists (and all you bed-wetting hippie-liberal types) beware! Ultra-right-wing C.I.A. agent Stan Smith is back, taking names, and, well, you know the rest. Join Stan, along with his hilariously off-beat family, as he spans the globe to make the world safe for democracy! If you are ready to support your country, and if you're ready for a widly outrageous animated farce from Mike Barker, Matt Weitzman and Seth MacFarlane, the creative mastermind behind Family Guy, you're ready for American Dad! Volume two. God bless America.

Säsong 1

2005 | 7 avsnitt

From the delightfully twisted creative minds behind 'Family Guy' comes 'American Dad', the animated tour de force featuring CIA operative Stan Smith, his outrageous family and Roger, the alcoholic extraterrestrial who lives with them! Follow the adventures of the Smiths from the California desert, where Stan's wife, Francine, relives her teenage years at the Burning Man festival, to Saudi Arabia, where the entire family is sentenced to death by the Vice and Virtue Police! Whether it's rigging elections, erasing memories, casing sleazy strip clubs, or staging "bum fights", it's all in a day's work for Stan, and it's all here in the side-splittingly hilarious first season of 'American Dad'!

Specials

2012 | 11 avsnitt
Visa alla säsonger
Serien är skapad av
Seth MacFarlane

Mike Barker

Matt Weitzman