Angel
The vampire Angel, cursed with a soul, moves to Los Angeles and aids people with supernatural-related problems while questing for his own redemption. A spin-off from Buffy the Vampire Slayer.
Skådespelare
Amy Acker

Winifred 'Fred' Burkle / Illyria

Alexis Denisof

Wesley Wyndam-Pryce

J. August Richards

Charles Gunn
Visas på följande playtjänster
Kommande sändningar
Inga tablålagda sändningar de närmsta sju dagarna.
Senaste inspelade avsnittet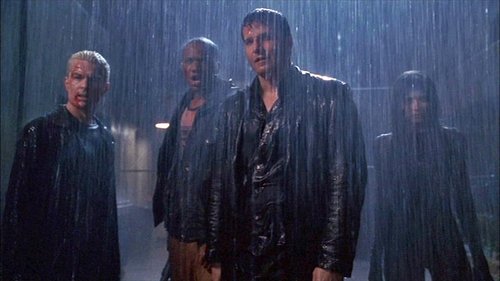 Not Fade Away
2004-05-19 | avsnitt 22
Angel and his friend's prepare for their "suicide" attack on the circle of the Black Thorn.
Säsonger för Angel
Säsong 5

2003 | 22 avsnitt

The Angel Investigations team is stunned when the Senior Partners of Wolfram and Hart give them control of the L.A. office. The gang quickly moves in, and although everyone is delighted at the amazing resources they now have at their command, they can't stop wondering what the catch is.

Säsong 4

2002 | 22 avsnitt

With both Angel and Cordelia still missing, Fred, Gunn and Connor try to keep Angel Investigations running while they search for their friends.

Säsong 3

2001 | 22 avsnitt

Even as Angel mourns the death of Buffy, Darla makes her way to L.A. with a mysterious new life growing within her. Now thrust into a role he never imagined, Angel needs the assistance of the Angel Investigations team more than ever. But while Cordelia, Gunn and Fred rally round the new dad, an ancient and deadly prophecy convinces Wesley to commit the ultimate betrayal.

Säsong 2

2000 | 22 avsnitt

Angel continues to seek redemption in season two, but a fatal mistake makes him realize that racking up the body count isn't the way to go. So with a renewed sense of purpose and Cordelia, Wesley and Gunn at his side, Angel sets out to make the streets of Los Angeles a little safer for everyone — unaware that Wolfram & Hart has summoned someone from his past to make sure he fails.

Säsong 1

1999 | 22 avsnitt

The first season of the television series Angel, the spin-off of Buffy the Vampire Slayer, premiered on October 5, 1999 on The WB and concluded its 22-episode season on May 23, 2000. The season aired on Tuesdays at 9:00 pm ET, following Buffy.
Visa alla säsonger
Serien är skapad av
David Greenwalt

Joss Whedon