Community
dvokaten Jeff Winger tvingas tillbaka till skolbänken efter att det visat sig att hans diplom var förfalskat. Han blir motvilligt mentor åt en samling missanpassade studenter.
Skådespelare
Gillian Jacobs

Britta Perry

Jim Rash

Dean Craig Pelton
Visas på följande playtjänster
Senaste inspelade avsnittet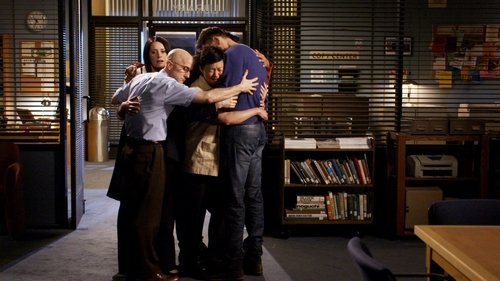 Emotional Consequences of Broadcast Television
2015-06-02 | avsnitt 13
As their sixth year at Greendale draws to a close, Abed asks everyone to imagine pitching a TV show about what they would do in season seven.
Säsonger för Community
Säsong 6

2015 | 13 avsnitt

Season 6 loses Shirley Bennett but sees the addition of two new members to the Save Greendale Committee: Elroy Patashnik and Francesca 'Frankie' Dart.

Säsong 5

2014 | 13 avsnitt

The fifth season of the television comedy series Community debuted midseason during the 2013–14 television season on NBC. The season contains 13 episodes, and features the return of series creator Dan Harmon as showrunner.

Säsong 4

2013 | 13 avsnitt

The fourth season of the television comedy series Community premiered on February 7, 2013 and concluded on May 9, 2013. The season consists of 13 episodes and aired on NBC on Thursdays at 8:00 pm ET as part of the network's "Comedy Night Done Right" programming block.

Säsong 3

2011 | 22 avsnitt

The third season of the television comedy series Community premiered on September 22, 2011 and concluded on May 17, 2012 on NBC. The season consists of 22 episodes and aired on Thursdays at 8:00 pm ET as part of the network's "Comedy Night Done Right" programming block.

Säsong 2

2010 | 24 avsnitt

The second season of the television comedy series Community premiered on September 23, 2010 and concluded on May 12, 2011, on NBC. The season consists of 24 episodes and aired on Thursdays at 8:00 pm ET as part of Comedy Night Done Right.

Säsong 1

2009 | 25 avsnitt

The first season of the television comedy series Community originally aired from September 17, 2009 on NBC to May 20, 2010 in the United States. The first three episodes aired at 9:30 pm ET before being moved to 8:00 pm ET. The show was picked up for 22 episodes in October 2009, and an additional 3 episodes were ordered later. The show focuses on disbarred lawyer Jeff Winger, and his attempt to get a bachelor's degree at a community college. He forms a study group in which they study Spanish.

Specials

2011 | 13 avsnitt
Visa alla säsonger