Deadliest Catch
Forty-foot waves, 700 pound crab pots, freezing temperatures and your mortality staring you in the face…it's all in a day's work for these modern day prospectors. During each episode we will watch crews race to meet their quota and make it home safely.
Senaste inspelade avsnittet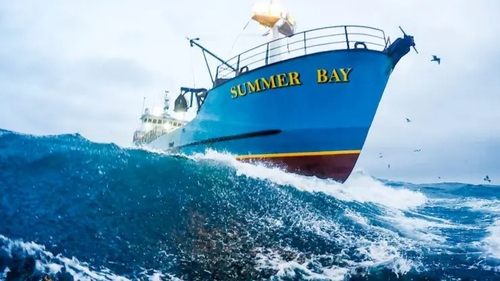 Time Machine
2021-05-11 | avsnitt 4
Driving the Time Bandit and Cornelia Marie, Josh and Casey attempt Johnathan's strategy for tracking King Crab across time and space. On the Summer Bay, Wild Bill's crew fights a mid-gale power outage, but the days are numbered for their greenhorn.
Säsonger för Deadliest Catch
Säsong 17

2021 | 6 avsnitt

Säsong 16

2020 | 23 avsnitt

A dramatic change in the Russian crab industry rocks global markets and drives new competition between Dutch Harbor captains and their Russian adversaries. For the first time ever, in season 16 the Alaskan crab fleet will face off against their biggest rival – the Russians.

Säsong 15

2019 | 23 avsnitt

Säsong 14

2018 | 19 avsnitt

New blood, old wounds and rivalries that never die. After a record breaking, heartbreaking season last year, Deadliest Catch returns for season fourteen. For some it's a season of change; for others, a chance to make a name for themselves, but some things remain constant: the perilous, icy waters of the Bering Sea and most dangerous job in the world.

Säsong 13

2017 | 19 avsnitt

Over the past 12 years, the veteran captains thought they'd seen it all. But this year proves to be like no other on record. This year the crabs have seemingly vanished – igniting a grueling hunt to save the fleet's way of life. After a massive temperature spike in the Bering Sea, traditional fishing hot spots are now coming up empty.

Säsong 12

2016 | 21 avsnitt

The fearless captains of the Bering Sea are back. This year they must lean on their brethren to survive. But just how far will they push their crabbing brotherhood to the edge?

Säsong 11

2015 | 20 avsnitt

Massive storms, a super typhoon and new regulations will change all the rules. With great risks come even greater opportunities - and for those willing to put it all on the line, it means an even bigger payoff. The fearless captains of the Bering Sea are back, and they must lean on their brethren to survive. How much can the bonds of brotherhood endure on the high seas?

Säsong 10

2014 | 18 avsnitt

Säsong 9

2013 | 17 avsnitt

Säsong 8

2012 | 17 avsnitt

Säsong 7

2011 | 17 avsnitt

Säsong 6

2010 | 17 avsnitt

Säsong 5

2009 | 16 avsnitt

Säsong 4

2008 | 16 avsnitt

Säsong 3

2007 | 12 avsnitt

Säsong 2

2006 | 12 avsnitt

Säsong 1

2005 | 10 avsnitt

Specials

2006 | 69 avsnitt
Visa alla säsonger