Dual Survival
Dual Survival is an American reality cable television series aired on the Discovery Channel. The show features a pair of survival experts in challenging environments. For the first two seasons the show featured the differing outdoor survival philosophies and skills of Cody Lundin, a naturalist and primitive-skills expert who runs the Aboriginal Living Skills School in Arizona and Dave Canterbury, a military-trained survival instructor who runs the Pathfinder Training School in Ohio. Beginning with the third season, Canterbury was replaced with Joseph "Joe" Teti.
Kommande sändningar
Inga tablålagda sändningar de närmsta sju dagarna.
Senaste inspelade avsnittet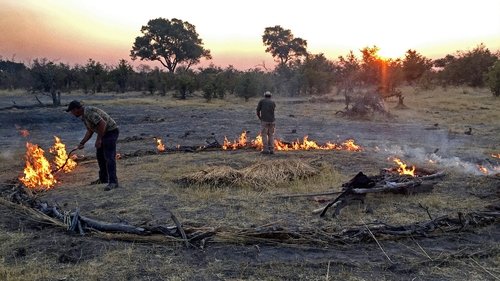 Attack of the Elephants
2016-10-12 | avsnitt 7
Stranded and lost in the drought-ravaged Okavango Delta in Botswana, EJ and Jeff must face down aggressive bull elephants and territorial three-thousand pound hippopotamuses in their quest for survival and a way back to civilization.
Säsonger för Dual Survival
Säsong 9

2016 | 7 avsnitt

Army combat veteran, EJ Snyder, and wilderness survivalist Jeff Zausch are no strangers to harsh environments - as fan favorites on Naked an Afraid, the two have bared it all to survive in unforgiving conditions. This season, EJ and Jeff experience tests like they've never encountered before. With two varying approaches to survival, the tough journey often becomes rockier as their disagreements come to a head. Can they overcome their differences and utilize their combined arsenal of skills to survive?

Säsong 8

2016 | 7 avsnitt

Returning to the series from last season is former U.S. Army Green Beret Weapons Sergeant Grady Powell, who tends to adopt a strong-willed and impetuous approach in order to overcome any obstacle. Grady is joined this season by new partner Josh James, an experienced outdoorsman from New Zealand's South Island. Josh and Grady must draw on their unique skills and experiences to battle with some of the toughest wilderness environments on the planet, where everything that can go wrong does, and opposing mindsets present frequent - and often amusing - conflicts.

Säsong 7

2016 | 10 avsnitt

Each week, new co-hosts Grady Powell and Bill McConnell will be dropped into survival situations that anyone, anywhere in the world, could one day encounter. Grady is a former U.S. Army Green Beret with a "no quit" mindset, who passed selection at only 21 years old, and is among some of the youngest soldiers to have made it into the elite brotherhood of Special Forces Operators. Meanwhile, his new partner Bill McConnell, a primitive wilderness survivalist, takes a much different approach. Bill considers himself to be on a lifelong journey to connect with nature and often 'talks' to plants and animals in the wild.

Säsong 5

2015 | 13 avsnitt

Säsong 4

2014 | 10 avsnitt

Säsong 3

2012 | 11 avsnitt

Säsong 2

2011 | 12 avsnitt

Experts agree there are some very basic and universal rules for surviving in the wild. Find shelter, find water, find food, find help. Beyond that, there's not much they agree on. None know this better than Cody Lundin and Dave Canterbury who are back again taking on some of the planet's most unforgiving terrain to demonstrate, in their own way, how the right skills and some creative thinking can keep you alive.

Säsong 1

2010 | 10 avsnitt
Visa alla säsonger