Dual Survival
Two people with drastically different backgrounds and survival strategies take on some of the planet's most unforgiving terrain to demonstrate how the right skills and creative thinking can keep you alive in the most dangerous situations.
Kommande sändningar
Inga tablålagda sändningar de närmsta sju dagarna.
Senaste inspelade avsnittet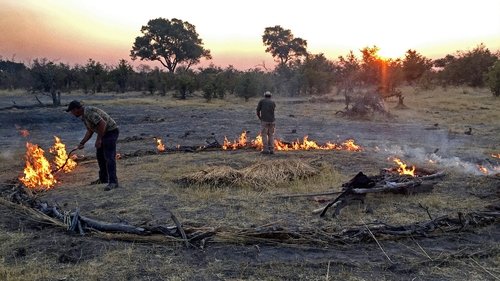 Attack of the Elephants
2016-10-12 | avsnitt 7
Stranded and lost in the drought-ravaged Okavango Delta in Botswana, EJ and Jeff must face down aggressive bull elephants and territorial three-thousand pound hippopotamuses in their quest for survival and a way back to civilization.
Säsonger för Dual Survival
Säsong 9

2016 | 7 avsnitt

Army combat veteran, EJ Snyder, and wilderness survivalist Jeff Zausch are no strangers to harsh environments - as fan favorites on Naked an Afraid, the two have bared it all to survive in unforgiving conditions. This season, EJ and Jeff experience tests like they've never encountered before. With two varying approaches to survival, the tough journey often becomes rockier as their disagreements come to a head. Can they overcome their differences and utilize their combined arsenal of skills to survive?

Säsong 8

2016 | 7 avsnitt

Returning to the series from last season is former U.S. Army Green Beret Weapons Sergeant Grady Powell, who tends to adopt a strong-willed and impetuous approach in order to overcome any obstacle. Grady is joined this season by new partner Josh James, an experienced outdoorsman from New Zealand's South Island. Josh and Grady must draw on their unique skills and experiences to battle with some of the toughest wilderness environments on the planet, where everything that can go wrong does, and opposing mindsets present frequent - and often amusing - conflicts.

Säsong 7

2016 | 10 avsnitt

Each week, new co-hosts Grady Powell and Bill McConnell will be dropped into survival situations that anyone, anywhere in the world, could one day encounter. Grady is a former U.S. Army Green Beret with a "no quit" mindset, who passed selection at only 21 years old, and is among some of the youngest soldiers to have made it into the elite brotherhood of Special Forces Operators. Meanwhile, his new partner Bill McConnell, a primitive wilderness survivalist, takes a much different approach. Bill considers himself to be on a lifelong journey to connect with nature and often 'talks' to plants and animals in the wild.

Säsong 5

2015 | 13 avsnitt

This season Joe Teti has to join force with a survival expert with a drastically different background, Matt Graham, to survive in some of the world's toughest environments. Teti and Graham will show what it takes to survive in environments that range from a deserted island in the Caribbean to the swamps of Georgia, and in Central America, among other destinations.

Säsong 4

2014 | 10 avsnitt

Joseph Teti and Cody Lundin join forces again to take on some of the planet's most unforgiving terrain in order to stay alive. This season the challenges are bigger, the environments are more extreme and the differences between the two men couldn't be greater. Lundin and Teti will tough it out in the endless mangroves of Sri Lanka, the blazing Arabian desert in Oman, the snow-capped Norwegian mountains and more. The stakes are higher than ever before and as a twist of events unravels throughout the season, one member of Dual Survival will leave the show for good.

Säsong 3

2013 | 11 avsnitt

Returning this season is Cody Lundin, a 20 plus-year survival veteran who honed his skills living in the deserts and mountains with little modern tools, equipment or assistance. New this season is Joseph Teti, a combat-tested special operations veteran and graduate of more than 30 formal schools related to special operations. His training in the art of staying alive has helped him survive countless classified missions in Afghanistan and Iraq. Together they could be the most formidable survival team on the planet - if only they could agree on strategy.

Säsong 2

2011 | 12 avsnitt

Cody Lundin and Dave Canterbury once again join forces to endure survival scenarios that push them to their limits. They must draw upon their personal arsenal of skills to devise extraordinary, MacGyver-like ways to survive. From swamps to avalanches and sweltering heat to sub-zero temperatures, this season Cody and Dave will show what it takes to survive in: the Florida Everglades, made up of 4,000 miles of cypress swamp; the scorching deserts of Baja, Mexico; Tierra Del Fuego, Argentina - less than 500 miles from Antarctica; the wet cloud forests of Panama, 7,000 feet in the air; and Wyoming's Rocky Mountains in the dead of winter.

Säsong 1

2010 | 10 avsnitt

Two survival experts, military-trained Dave Canterbury and naturalist Cody Lundin, they take on some of the planet's most unforgiving terrain to demonstrate how the right skills and some creative thinking can keep you alive.
Visa alla säsonger