Frasier
Dr, Fraiser Crane är en framgångsrik teraput från Boston som flyttar till Seattle för att få en nystart på livet. Han har en radioshow som han använder för att förmedla sin visdom till andra, men han kämpar även med sina egna problem tillsammans med sin pretentiösa bror, sin godhjärtade fader, medarbetare och vänner.
Skådespelare
Kelsey Grammer

Frasier Crane

David Hyde Pierce

Niles Crane
Visas på följande playtjänster
Viaplay
Paramount Plus
Comhem Play
Senaste inspelade avsnittet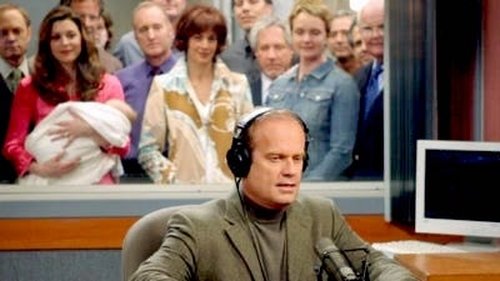 Goodnight, Seattle (2)
2004-05-13 | avsnitt 24
Daphne gives birth to a healthy son, David. Frasier marries Martin and Ronee in the vet's office before Daphne and the baby leave for the hospital. Frasier grows very lonely with Martin out of the apartment and Daphne and Niles busy with their son. He decides to take the San Francisco job. Roz is named Kenny's replacement as station manager, and gives Noel a kiss during her celebration! Frasier tells his family and Roz about his upcoming move, following a misunderstanding that leads them to believe he is dying. He promises to visit frequently. Frasier makes a speech to the group, and again on his final show at KACL, about the importance of taking chances. His seatmate on the plane thanks him for the stimulating conversation as their plane finally lands...in Chicago.
Säsonger för Frasier
Säsong 11

2003 | 24 avsnitt

Säsong 10

2002 | 24 avsnitt

Säsong 9

2001 | 24 avsnitt

Säsong 8

2000 | 24 avsnitt

The eighth season of Frasier originally aired from October 24, 2000 to May 22, 2001 on NBC.

Säsong 7

1999 | 24 avsnitt

The seventh season of Frasier originally aired from September 23, 1999 to May 18, 2000 on NBC.

Säsong 6

1998 | 24 avsnitt

The sixth season of Frasier originally aired from September 24, 1998 to May 29, 1999 on NBC.

Säsong 5

1997 | 24 avsnitt

The fifth season of Frasier originally aired from September 23, 1997 to May 19, 1998 on NBC.

Säsong 4

1996 | 24 avsnitt

The fourth season of Frasier originally aired from September 17, 1996 to May 20, 1997 on NBC.

Säsong 3

1995 | 24 avsnitt

The third season of Frasier originally aired from September 19, 1995 to May 21, 1996 on NBC.

Säsong 2

1994 | 24 avsnitt

The second season of Frasier originally aired from September 20, 1994 to May 23, 1995 on NBC.

Säsong 1

1993 | 24 avsnitt

The first season of Frasier originally aired from September 16, 1993 to May 19, 1994 on NBC.

Specials

2001 | 23 avsnitt
Visa alla säsonger