Gossip Girl
Välkommen till Upper East Side-ungdomarnas glamorösa liv på Manhattan. Studenterna får alla viktiga nyheter från den allvetande och superhemlighetsfulla Gossip Girls blogg. Ingen vet vem Gossip Girl är, men Gossip Girl vet allas hemligheter.
Skådespelare
Blake Lively

Serena van der Woodsen

Leighton Meester

Blair Waldorf

Chace Crawford

Nate Archibald
Kommande sändningar
Inga tablålagda sändningar de närmsta sju dagarna.
Senaste inspelade avsnittet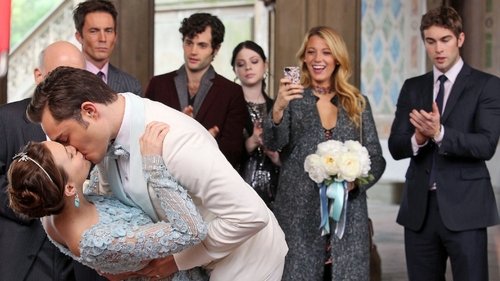 New York, I Love You XOXO
2012-12-17 | avsnitt 10
In a fashionable farewell to remember, our favorite Upper East Siders join forces for one last soiree, and the shocking identity of Gossip Girl is finally revealed.
Säsonger för Gossip Girl
Säsong 6

2012 | 10 avsnitt

Serena has gone off the grid, beyond even the reach of Gossip Girl. Her friends fear for the worst and hope for the best, but even they can't imagine where they will ultimately find her. Meanwhile, Blair has offered Chuck her heart, but is her love enough to help him win back his empire? Lonely Boy Dan has written a new book that promises to make even more trouble than the first, and this time he has no desire to remain anonymous. Nate is determined to finally reveal the true identity of Gossip Girl, thereby making a name for The Spectator, and himself. Lily and Rufus turn on one another when Rufus makes a surprising new ally who threatens Lily and her family. Anywhere else it would be too much drama to handle, but this is the Upper East Side.

Säsong 5

2011 | 24 avsnitt

The season began in Los Angeles when a re-energized Chuck and Nate decided to pay Serena a visit. Chuck has a newfound philosophy and says "yes" to everything, even death defying stunts. Serena continues to work on the movie set, and is offered a full-time job at the end of the episode. Nate begins an affair with an older woman, Diana Payne, who may have an ulterior motive for being with Nate. Back in New York, Dan learns that Vanessa has published one chapter of his novel, and Blair continues to plan her wedding to Louis, and she also learns she is pregnant. After realizing she still had feelings for Chuck, Blair and Chuck decide to go away together, but their car crashes. As a result of the crash Blair loses her baby, Chuck nearly dies, and Blair eventually marries Louis. The season also focuses on Nate running an online gossip site NYSpectator, Blair and Dan's friendship turning into a relationship, Chuck's quest to find his real parents which leads him to discover that his father, Bart, is still alive, and the effects of CeCe's death on Lily and her marriage to Rufus. At the end of the season, Blair makes a choice between Dan and Chuck, and Lily makes a choice between Rufus and Bart. Serena is seen leaving town while Dan decides to write a new book about the Upper East Side, with the help of Georgina.

Säsong 4

2010 | 22 avsnitt

Season four's main mystery revolves around Juliet Sharp, a secretive girl with an agenda against Serena involving her past. The second half of the season builds on the complications of Serena's new found relationship with her former teacher Colin, Chuck trying to regain control of Bass Industries from Russell Thorpe, and Dan and Blair's growing friendship. The season also focuses on Lily's past betrayals coming back to haunt her; Chuck and Blair's tumultuous relationship after their break up; Dan and Vanessa's deteriorating friendship; and the arrival of Serena's cousin Charlie Rhodes to the Upper East Side. By the end of the season, Blair has ignored Chuck, Dan has told Vanessa they are no longer friends, and Serena is on that single grind.

Säsong 3

2009 | 22 avsnitt

Welcome back, Upper East Siders. Summer is officially drawing to a close. Rufus, Dan and Jenny spent the summer in the Hamptons, adjusting to the van der Woodsen's glamorous lifestyle surprisingly faster than any of them expected. Blair and Chuck are madly in love and adjusting to their new "in a relationship" status. Nate returns from his travels with a mysterious brunette in tow. Serena returns from her European adventure with many secrets to hide as she gets ready to move into her dorm at Brown. Blair is determined to have her Queen status at NYU, along with Dan and Vanessa, but her roommate sets out to ensure that she does not retain her title.

Säsong 2

2008 | 25 avsnitt

Sex, lies and scandals never take a vacation. Rumors is the temperature began to climb between Nate and Serena, who escaped to Hamptons for the summer following their break-up with Lonely Boy. As summer draws to a close, Blair returns from abroad with a hot guy on her arm and Dan, who has spent the summer assisting a famous author, decides to head to the Hamptons. Then, everyone gets back to the city for senior year. Applying for college is only one small part of the story as new romances (and some not-so-new romances) bloom and fade, scandals erupt at every turn, and alliances shift even faster than Gossip Girl can send an update.

Säsong 1

2007 | 18 avsnitt

The privileged prep school teens on Manhattan's Upper East Side first learn that notorious party girl Serena Van Der Woodsen is back in town the way they learn all the important news in their lives–from the blog of the all-knowing albeit ultra-secretive Gossip Girl. Serena's closest friend, Blair, is just as surprised as everyone else to find that Serena has suddenly ended her self-imposed exile to boarding school and returned to Manhattan. The tension between Blair and Serena isn't lost on Gossip Girl, who is determined to uncover and fuel any and all scandals. Does it involve Serena's younger brother Eric, Blair's boyfriend Nate or Nate's buddy Chuck? Maybe it has something to do with Dan and his sister Jenny, whose middle-class background keeps them on the fringes of this exclusive clique who live for fashion, shopping and partying–along with gossip.

Specials

2008 | 17 avsnitt
Visa alla säsonger
Serien är skapad av
Stephanie Savage

Josh Schwartz