Gotham
James Gordons har precis blivit befordrad till kriminalinspektör i Gotham City och är redo att bevisa vad han går för. Han bestämmer sig för att få rättsida på korruptionen i staden och det blir en ensam kamp där han ställs mot sina kollegor och den undre världen, som gansterbossen Fish Mooney.
Skådespelare
Ben McKenzie

James Gordon

Donal Logue

Harvey Bullock

David Mazouz

Bruce Wayne / 514A

Sean Pertwee

Alfred Pennyworth

Robin Lord Taylor

Oswald Cobblepot / Penguin

Erin Richards

Barbara Kean

Camren Bicondova

Selina Kyle

Cory Michael Smith

Edward Nygma / The Riddler
Visa fler skådespelare
Visas på följande playtjänster
Kommande sändningar
Inga tablålagda sändningar de närmsta sju dagarna.
Senaste inspelade avsnittet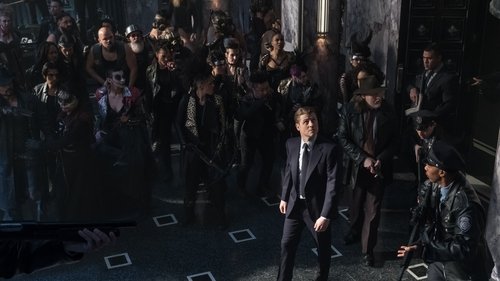 Legend of Dark Knight: The Trial of James Gordon
2019-03-07 | avsnitt 9
After Gordon is shot in an attempt to establish a cease-fire, he hallucinates a trial for his life that could have deadly real consequences. Meanwhile, Ivy returns and puts her spell on Bruce, leaving Selina to defend herself. Lee has a life-changing moment as Barbara and Penguin consider their next moves.
Säsonger för Gotham
Säsong 5

2019 | 12 avsnitt

Following the epic events of last season, the Legend of the Dark Knight resumes as Gotham City is divided between Gordon's GCPD jurisdiction and some of the city's most notorious villains. As the city's heroes try to gain control and salvage what's left of the deteriorating city, it teeters between good and evil, even as new villains, including the iconic Bane are introduced.

Säsong 4

2017 | 22 avsnitt

With the Court of Owls decimated, the aftermath of the Tetch virus crippling the city, and every (surviving) villain in Gotham's underworld jockeying for power, Jim Gordon and the GCPD have their hands full. What threat does Ra's al Ghul pose, and will Penguin regain his title as the King of Gotham? What new villains are in store for season four, and what does Bruce Wayne's season finale reveal mean for Gotham City — and his ultimate destiny?

Säsong 3

2016 | 22 avsnitt

With the Indian Hill escapees on the loose, Jim Gordon must take matters into his own hands as a bounty hunter in Gotham. He makes it his mission to find Hugo Strange, the mastermind behind the horrifying Indian Hill experiments, and Fish Mooney, one of Strange's subjects. Meanwhile, GCPD Detective Harbet Bullock and Captain Nathaniel Barnes remain at the forefront of the fight against crime in the monster-ridden city. Also, Bruce Wayne discovers there are still more secrets to uncover regarding his parents' murders.

Säsong 2

2015 | 22 avsnitt

The stakes are higher than ever as Gotham explores the origin stories of some of the most ambitious and depraved Super Villains, including The Riddler, The Joker and Mr. Freeze, and Bruce Wayne uncovers more secrets from his father's past.

Säsong 1

2014 | 22 avsnitt

A new recruit in Captain Sarah Essen's Gotham City Police Department, Detective James Gordon is paired with Harvey Bullock to solve one of Gotham's highest-profile cases: the murder of Thomas and Martha Wayne. During his investigation, Gordon meets the Waynes' son Bruce, now in the care of his butler Alfred Pennyworth, which further compels Gordon to catch the mysterious killer. Along the way, Gordon must confront mobstress Fish Mooney, mafia led by Carmine Falcone, as well as many of Gotham's future villains such as Selina Kyle, Edward Nygma, and Oswald Cobblepot. Eventually, Gordon is forced to form an unlikely friendship with Wayne, one that will help shape the boy's future in his destiny of becoming a crusader.

Specials

2014 | 12 avsnitt
Visa alla säsonger
Serien är skapad av
Bruno Heller