History's Greatest Mysteries
History's Greatest Mysteries, hosted and narrated by Laurence Fishburne will investigate a wide range of historically compelling topics and the mysteries surrounding each including the Titanic, D.B. Cooper, Roswell, John Wilkes Booth, and more. Each program within the franchise will showcase fresh, new evidence and perspectives including never-before-released documents to the general public, personal diaries and DNA evidence to unearth brand-new information about these infamous and enigmatic chapters in history.
Kommande sändningar
Inga tablålagda sändningar de närmsta sju dagarna.
Senaste inspelade avsnittet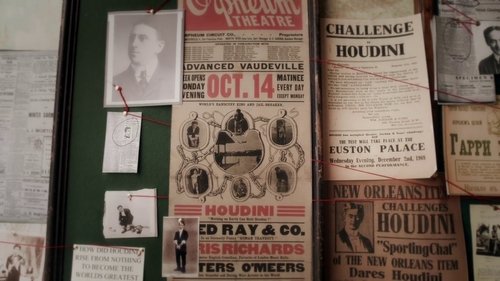 Houdini's Lost Diaries
2021-09-28 | avsnitt 4
Harry Houdini left behind a diary that had been kept from the public, held under lock and key by a wealthy New York City Family. Now, magician and Houdini expert Bill Kalush has finally secured access to these pages. A team of experts will begin to unveil the diary, using new information gleaned from these personal accounts to form new insights into this enigmatic man's life. But Houdini's humble rise to fame eventually turns into a dark web of mysteries shrouding the truth behind this legend's end. From vindictive competitors to a man driven to failure by his own ambitions, the cause of Houdini's sudden death has remained unsolved, until now.
Säsonger för History's Greatest Mysteries