How I Met Your Mother
Serien handlar om Ted Mosby som berättar för sin son och dotter om händelserna som ledde till hur han träffade deras mamma. Teds berättelse börjar med när hans bästa kompis, Marshall Eriksen, avslöjar att han tänker fria till sin flickvän, Lily Aldrin. Just i det ögonblicket slår det Ted att han måste sätta fart om han också vill finna den rätta. Hans vän, Barney Stinson, hjälper honom med denna stora uppgift. Barney har dock en del ovanliga åsikter och förslag om hur man träffar tjejer. När Ted möter Robin Scherbatsky är han säker på att det är kärlek vid första ögonkastet och att hon är hans framtida livspartner. Men livet är inte alltid så lätt...
Skådespelare
Josh Radnor

Theodore "Ted" Evelyn Mosby

Jason Segel

Marshall Eriksen

Cobie Smulders

Robin Charles Scherbatsky, Jr.

Neil Patrick Harris

Barnabus "Barney" Stinson

Alyson Hannigan

Lily Aldrin
Senaste inspelade avsnittet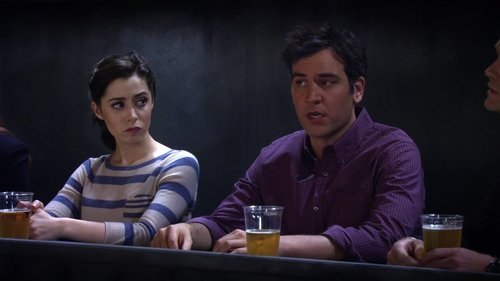 Last Forever: Part Two
2014-03-31 | avsnitt 24
Ted finally finishes telling his kids the story of how he met their mother.
Säsonger för How I Met Your Mother
Säsong 9

2013 | 24 avsnitt

Taking place immediately after where the previous season left off, Season 9 covers the events of a single weekend that lead up to Barney and Robin's wedding. During the course of the weekend, "The Mother" is separately introduced to Robin, Barney, Lily, and Marshall, before finally meeting Ted. The season also features frequent flashbacks and flashforwards in order to fully integrate The Mother's character with the rest of the cast.

Säsong 8

2012 | 24 avsnitt

The eighth season of the American television comedy series How I Met Your Mother was announced in March 2011 along with confirmation of the ninth season. The season premiered on September 24, 2012 and concluded on May 13, 2013.

Säsong 7

2011 | 24 avsnitt

The seventh season of the American television comedy series How I Met Your Mother was announced in March 2011, along with confirmation of an eighth season. The seventh season premiered on CBS on September 19, 2011, with two episodes airing back-to-back and concluded on May 14, 2012.

Säsong 6

2010 | 24 avsnitt

The sixth season of the American television comedy series How I Met Your Mother premiered on September 20, 2010, to conclude on May 16, 2011 on CBS.

Säsong 5

2009 | 24 avsnitt

The fifth season of the American television comedy series How I Met Your Mother premiered on September 21, 2009 and concluded on May 24, 2010. It consists of 24 episodes, each running approximately 22 minutes in length. CBS broadcast the fifth season on Monday nights at 8:00 pm in the United States.

Säsong 4

2008 | 24 avsnitt

The fourth season of the American television comedy series How I Met Your Mother premiered on September 22, 2008 and concluded on May 18, 2009. It consisted of 24 episodes, each running approximately 22 minutes in length. CBS broadcast the fourth season on Monday nights at 8:30 pm in the United States. The complete fourth season was released on Region 1 DVD on September 29, 2009. In the United Kingdom it began airing via E4 from Thursday, December 10 weekly. To date, it is the only season of the series to be nominated for the Primetime Emmy Award for Outstanding Comedy Series.

Säsong 3

2007 | 20 avsnitt

The third season of the American television comedy series How I Met Your Mother premiered on September 24, 2007 and concluded on May 19, 2008. It consisted of 20 episodes, each running approximately 22 minutes in length. CBS broadcast the third season on Monday nights at 8:00 pm in the United States until December 10, 2007 when the season was interrupted by the writer's strike, when the season continued on March 17, 2008 it was moved back to 8:30pm. The complete third season was released on Region 1 DVD on October 7, 2008. In the United Kingdom it aired via E4 from October 30, 2009 weekdays at 7:30pm.

Säsong 2

2006 | 22 avsnitt

The second season of the American television comedy series How I Met Your Mother premiered on September 18, 2006 and concluded on May 14, 2007. It consisted of 22 episodes, each approximately 22 minutes in length. CBS broadcast the first three episodes of the second season on Monday nights at 8:30 pm in the United States, the remaining episodes were broadcast at 8:00pm. The complete second season was released on Region 1 DVD on October 2, 2007. In the United Kingdom it aired via E4 from October 2, 2009 weekdays at 7:30pm.

Säsong 1

2005 | 22 avsnitt

The first season of How I Met Your Mother, an American sitcom created by Carter Bays and Craig Thomas, premiered on CBS in the United States on September 19, 2005 and concluded on May 15, 2006. The season was directed by Pamela Fryman and produced by Bays & Thomas Productions and 20th Century Fox Television. It consists of 22 episodes, each running approximately 22 minutes in length.

Specials

2006 | 17 avsnitt
Visa alla säsonger