Jane the Virgin
Jane är en ung kvinna som har beslutat att hon ska vara oskuld tills hon gifter sig. Men hennes liv tar en helomvändning när hon av misstag blir inseminerad på konstgjord väg.
Skådespelare
Gina Rodriguez

Jane Villanueva

Andrea Navedo

Xiomara Villanueva

Yael Grobglas

Petra Solano

Justin Baldoni

Rafael Solano

Ivonne Coll

Alba Villanueva
Kommande sändningar
Inga tablålagda sändningar de närmsta sju dagarna.
Senaste inspelade avsnittet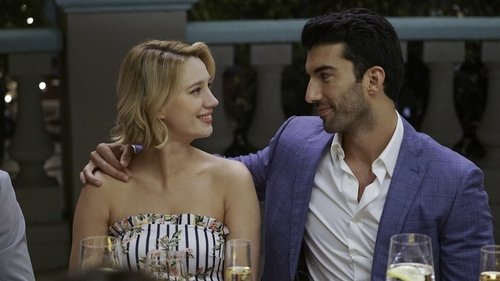 Chapter One Hundred
2019-07-31 | avsnitt 19
With Jane and Rafael finally getting ready for their big day, Rafael's desire to help Jane's writing dream lands him in trouble. Xo and Rogelio must tell the family about their decision and not everyone takes it well. Meanwhile, Petra struggles with her emotions.
Säsonger för Jane the Virgin
Säsong 5

2019 | 19 avsnitt

Säsong 4

2017 | 17 avsnitt

It's been quite a year (or three) for Jane Villanueva. She got married and then, at long last… Jane had sex. That's right, friends, she's Jane the Virgin no more! And let me tell you, married life was everything she had hoped for… until the worst thing ever happened and Michael died. I know. It was a heartbreaker. We pick our story up three years later and Jane's life is certainly not what she planned. First of all, she's a widow, like her Abuela. But she's also channeled that grief into a book about her love story with Michael… And guess what? It was being published! Oh, and also on the bright side – Jane's parents finally found their way back to each other and got engaged. And speaking of finding their way back to each other, Jane and Rafael are now the closest of friends. And it's a good thing, because remember their cute, snuggly son Mateo? Well, he's now quite the handful – to put it mildly. And to make matters worse – Rafael's twins he had with Petra were frickin' angels. Oh, and Petra was kicking butt professionally too. Business was booming at the Marbella until everyone's (not) favorite employee Scott was found dead! I know, OMG, right? And soon, Petra and her twin sister Anezka were both suspects! But you know who it actually was… ? Actually, I'm not going to spoil it, but trust me – it was straight out of a telenovela...

Säsong 3

2016 | 20 avsnitt

This has been a year of growth and change for Jane Villanueva as she adapted to her brand new role – as a virgin mother. Totally normal, right? Luckily, she had her mother, Xiomara, and her grandmother, Alba, to lean on, as she struggled to balance graduate school, work, and her son Mateo (aka the cutest kid on the planet). And oh yeah, she was also in a much debated love triangle! Would Jane choose to be with Michael, the steadfast detective? Or Rafael, Mateo's father? And at last Jane chose Michael! And the wedding planning began. Of course, no one was more thrilled than Jane's telenovela star father Rogelio, who was #teammichael from the start. Oh, and speaking of Rogelio – he was in love with Jane's mother, Xo. But alas, he wanted to have kids and she didn't. So they broke up and he threw himself into his new telenovela… and into his new telenovela headwriter. Complicated right? And speaking of complicated – let's talk Rafael. He found himself a father of three this season, after his ex-wife Petra inseminated herself with his last sperm sample. And they had twins! Plus, poor Rafael found out his mother was a crime lord. So yeah. Pretty heavy stuff. Also heavy… Rogelio threw Jane the wedding of her dreams. But then, in the final moments, Michael was shot. Which is where we left off…

Säsong 2

2015 | 22 avsnitt

After Jane Villanueva was accidentally artificially inseminated (!), she and Rafael Solano were drawn closer by the pregnancy and began to fall for each other. Although Jane was engaged to her long-time love, Michael, the tension proved too much for the couple, and they called off their engagement... and Jane and Rafael began seeing each other. But happily ever after was interrupted by murder and mayhem, by scheming exes and maniacal criminal masterminds. Oh, and then there's the fact that Jane learned her long lost father is Rogelio De La Vega, her favorite telenovela star! And now he's back in her life... But amidst all the crazy, there are the Villaneuva women who band together to support each other always, no matter the twists and turns thrown their way. And ultimately, Jane gave birth and a new Villanueva entered the world. And believe it or not... the drama is just getting started.

Säsong 1

2014 | 22 avsnitt

When Jane Villanueva was a young girl, her grandmother, Alba, convinced her women must protect their virginity at all costs. Now age 23, Jane is a driven young woman studying to become a teacher, nursing a dream to be a writer, and supporting herself with a job at a hot new Miami hotel. All the years of watching telenovelas with the two women who raised her – her sexy, young-at-heart mother, Xiomara, and her still-devout grandmother, Alba – have given Jane a slightly unrealistic view of romance. Still, she is determined not to make the same mistake her mother made – becoming an unwed mother at 16. Jane has managed to find a wonderful fiancé: a handsome, hard-working detective named Michael. All of Jane's meticulous life plans are turned upside down, however, when she sees her doctor for a routine check-up and is accidentally artificially inseminated. Unbeknownst to her, the specimen belongs to Rafael, a reformed playboy and cancer survivor, who is not only the new owner of the hotel where Jane works but also a former summer crush of hers. Jane's life has suddenly become as dramatic and complicated as the telenovelas she has always loved.
Visa alla säsonger