Kingpin
Kingpin is an American crime drama television series which debuted on the NBC network in the U.S. and CTV in Canada on February 2, 2003 and lasted 6 episodes. NBC's answer to The Sopranos and also influenced by The Godfather, Macbeth and Traffik, the story was about a Mexican drug trafficker named Miguel Cadena and his family life. It was to be followed by a television series, but low ratings canceled those plans. Commercials for the mini-series on NBC featured the song "Más" by the Mexican band Kinky.
Skådespelare
Sheryl Lee

Marlene McDillon Cadena

Yancey Arias

Miguel Cadena

Bobby Cannavale

Chato Cadena

Brian Benben

Dr. Heywood Klein
Senaste inspelade avsnittet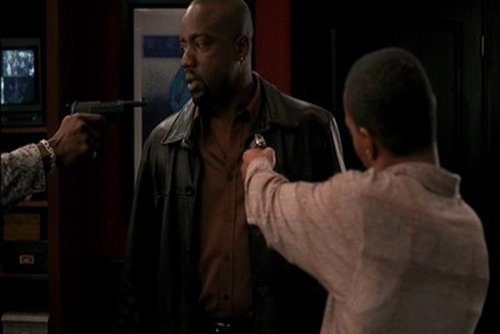 Gimme Shelter
2003-02-18 | avsnitt 6
Kingpin ends on a quiet moment, with Miguel accepting Chato back into his life, but opens with a bang as Delia goes against Doug Duffy's orders and ends up saving Undercover Bobby's life during the raid on Truck's club. Dr. Benben tries out a professional bodyguard, but ends up pairing up with Junie. Things with La Corporacion are kind of a mess, but everything works out for the best after Miguel pays the CIA $20 million and the Senator is strangled by a bolo tie. Yes, a bolo tie.