Last Week Tonight with John Oliver
A half-hour satirical look at the week in news, politics and current events.
Visas på följande playtjänster
Kommande sändningar
Inga tablålagda sändningar de närmsta sju dagarna.
Senaste inspelade avsnittet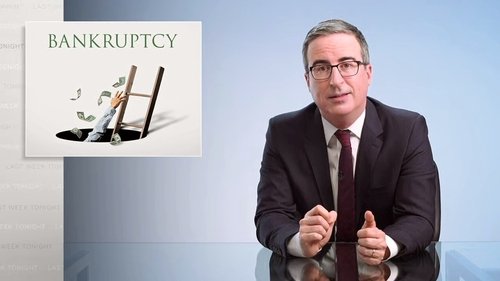 Episode 218: Bankruptcy
2021-04-18 | avsnitt 9
John Oliver details why people file for bankruptcy, how needlessly difficult the process can be, and the ways we can better serve people struggling with debt.
Säsonger för Last Week Tonight with John Oliver
Säsong 8

2021 | 13 avsnitt

Säsong 7

2020 | 30 avsnitt

Säsong 6

2019 | 30 avsnitt

Säsong 5

2018 | 30 avsnitt

Säsong 4

2017 | 30 avsnitt

Säsong 3

2016 | 30 avsnitt

Säsong 2

2015 | 35 avsnitt

Säsong 1

2014 | 24 avsnitt

Specials

2014 | 48 avsnitt
Visa alla säsonger