Marvel's Jessica Jones
Privatdetektiven Jessica Jones plågas av hemska händelser från sitt förflutna. Nu tänker hon hitta sin plågoande innan han skördar fler offer i Hell's Kitchen.
Skådespelare
Krysten Ritter

Jessica Jones

Rachael Taylor

Patricia "Trish" Walker

Eka Darville

Malcolm Ducasse

Carrie-Anne Moss

Jeryn "Jeri" Hogarth
Visas på följande playtjänster
Kommande sändningar
Inga tablålagda sändningar de närmsta sju dagarna.
Senaste inspelade avsnittet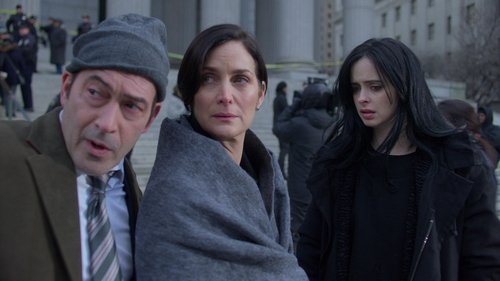 A.K.A Everything
2019-06-14 | avsnitt 13
An old friends visit Jessica as she sets out on an agonizing mission and learns the true cost of being a hero.
Säsonger för Marvel's Jessica Jones
Säsong 3

2019 | 13 avsnitt

In the final season, Jessica matches wits with a calculating serial killer, and a newly powered Trish goes to extremes to stamp out evil.

Säsong 2

2018 | 13 avsnitt

Drowning in anger, Jessica Jones is forced to reckon with her past, her powers and her newfound fame as she dishes out her own messy form of justice. Finally ready to face her past, Jessica hunts down the source of her powers and uncovers a link to a shadowy killer who's terrorizing the city.

Säsong 1

2015 | 13 avsnitt

Haunted by a traumatic past, Jessica Jones uses her gifts as a private eye to find her tormentor before he can harm anyone else in Hell's Kitchen.