Peep Show
Peep Show is an award-winning British sitcom starring David Mitchell and Robert Webb. The television programme is written by Jesse Armstrong and Sam Bain, with additional material by Mitchell and Webb amongst others. It has been broadcast on Channel 4 since 2003. The show's eighth series makes it the longest-returning comedy in Channel 4 history. Stylistically, the show uses point of view shots with the thoughts of main characters Mark and Jeremy audible as voiceovers. Peep Show follows the lives of two men from their twenties to thirties, Mark Corrigan, who has steady employment for most of the series, and Jeremy "Jez" Usbourne, an unemployed would-be musician. The pair met at the fictional Dartmouth University, and now share a flat in Croydon, South London. Mark is initially a loan manager at the fictional JLB Credit, later becoming a waiter, and then a bathroom supplies salesman. He is financially secure, but awkward and socially inept, with a pessimistic and cynical attitude. Jeremy, having split up with his girlfriend Big Suze prior to the first episode, now lives in Mark's spare room. He usually has a much more optimistic and energetic outlook on the world than Mark, yet his self-proclaimed talent as a musician has yet to be recognised, and he is not as popular or attractive as he would like to think himself, although he is more successful with the opposite sex than Mark.
Skådespelare
Robert Webb

Jeremy Usborne

David Mitchell

Mark Corrigan

Olivia Colman

Sophie Chapman

Paterson Joseph

Alan Johnson
Visas på följande playtjänster
Kommande sändningar
Inga tablålagda sändningar de närmsta sju dagarna.
Senaste inspelade avsnittet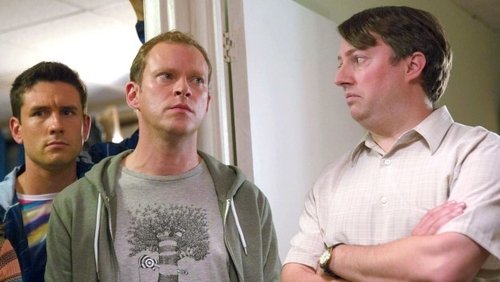 Are We Going To Be Alright?
2015-12-16 | avsnitt 6
It's the last ever Peep Show from the El Dude Brothers. Jeremy is turning 40 - and it's hitting him hard - while Mark makes an audacious attempt to win the woman of his dreams.
Säsonger för Peep Show
Series 9

2015 | 6 avsnitt

The final series of Peep Show is almost upon us, with the final miserable misadventures of the El Dude Brothers' set to begin on 11 November.

Specials

2009 | 36 avsnitt
Visa alla säsonger
Serien är skapad av
Andrew O'Connor

Jesse Armstrong

Sam Bain