Sons of Anarchy
An adrenalized drama with darkly comedic undertones that explores a notorious outlaw motorcycle club's (MC) desire to protect its livelihood while ensuring that their simple, sheltered town of Charming, California remains exactly that, charming. The MC must confront threats from drug dealers, corporate developers, and overzealous law officers. Behind the MC's familial lifestyle and legally thriving automotive shop is a ruthless and illegal arms business driven by the seduction of money, power, and blood.
Skådespelare
Katey Sagal

Gemma Teller Morrow

Theo Rossi

Juan Carlos "Juice" Ortiz

Tommy Flanagan

Filip "Chibs" Telford
Visas på följande playtjänster
Kommande sändningar
Inga tablålagda sändningar de närmsta sju dagarna.
Senaste inspelade avsnittet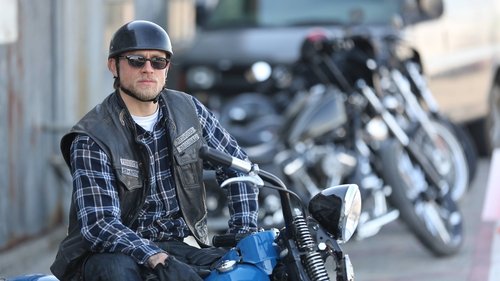 Papa's Goods
2014-12-09 | avsnitt 13
Ghosts loom large as Jax makes the final moves to fulfill his father's legacy.
Säsonger för Sons of Anarchy
Säsong 7

2014 | 13 avsnitt

The seventh and final season of Sons of Anarchy begins ten days after the tragic events of Season Six with Jax in jail on a parole violation, grappling with his inner demons. With the club's full support, he sets in motion the brutal machinations that will lead to complete and merciless retribution.

Säsong 6

2013 | 13 avsnitt

Having framed Clay for the murder of Damon Pope, Season Six begins with Jax's leadership uncontested, but his family life is suffering from his single-minded pursuit of John Teller's vision. Jax must find a way to keep Tara from going to prison for conspiracy to commit murder while rebuilding his club and breaking from the cycle of violence and greed that ultimately led to his best friend's death.

Säsong 5

2012 | 13 avsnitt

This season begins with Jax and Tara as the club's new king and queen after learning the truth behind his father's death and facing the consequences of the club's illicit deeds. Stripped of his patch after Jax discovers he was complicit in John Teller's death, Clay recovers from gunshot wounds that nearly killed him while Gemma is faced with a new life without the comfort of her family. With the threat of RICO still looming, Jax has to find a way to protect his family and save his club as SAMCRO is pulled into a conflict with a potent new enemy.

Säsong 4

2011 | 14 avsnitt

This season begins with SAMCRO fresh out of jail and back into Charming. Upon their arrival, they encounter new law enforcement and head right back to business. The club is pressed with a decision that could challenge what SOA has always stood for and brings forth an unlikely alliance. Jax, fresh out of jail and dealing with the birth of his new-born son, is forced to put new plans into motion that could affect the club and ultimately his family.

Säsong 3

2010 | 13 avsnitt

This season begins with SAMCRO feeling powerless over Abel's kidnapping, especially Jax, whose grief sends him into deeper turmoil over his future with the club. The search for Abel sends our guys to Ireland, where Jax faces not only the Irish Republican Army but an untold personal history as well. Meanwhile, still on the lam, Gemma is hit with unexpected news and risks her freedom to deal with it.

Säsong 2

2009 | 13 avsnitt

This season Jax and the club deal with the fallout from Donna's death, bringing internal tensions to an all-time high while a new enemy takes root in Charming. LAN, or League of American Nationalists, is a white separatist organization headed by Ethan Zobelle (Adam Arkin) with help from his lieutenant, A.J. Weston (Henry Rollins). Zobelle opens a cigar shop on Main Street intent on ingratiating himself with the community and forcing SAMCRO out.

Säsong 1

2008 | 13 avsnitt

Led by Clay Morrow (Ron Perlman), the outlaw motorcycle club Sons of Anarchy exerts a Mafia-like hold over the small Northern Californian town of Charming.

Specials

2011 | 35 avsnitt
Visa alla säsonger