The Comeback
The series initially follows Valerie Cherish (Kudrow), a veteran sitcom actress who has been out of the spotlight for more than a decade, as she attempts in 2005 to return to the industry that made her famous. Valerie lands a role on a new network sitcom, but struggles with the matter of being an aging, non-influential performer in an increasingly-youthful Hollywood, while her every move on and off the set is being documented for a companion reality show. When the cameras catch up with Valerie in 2014, she is cast in an HBO series entitled Seeing Red, which chronicles the career of the sitcom writer/producer who tormented her nine years earlier.
Skådespelare
Lisa Kudrow

Valerie Cherish

Robert Michael Morris

Mickey Deane
Visas på följande playtjänster
Kommande sändningar
Inga tablålagda sändningar de närmsta sju dagarna.
Senaste inspelade avsnittet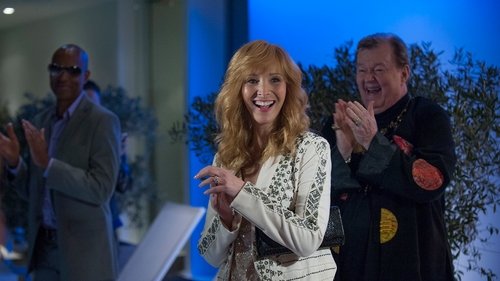 Valerie Gets What She Really Wants
2014-12-28 | avsnitt 8
It's the weekend of the Emmys in the second-season finale, and Valerie is riding high thanks to her success in "Seeing Red," and even gets noticed by a former "Room and Bored" costar at Juna's big bash, but she's still not sure if her husband, Mark, will be by her side on the most important night of her life.
Säsonger för The Comeback
Säsong 2

2014 | 8 avsnitt

Valerie Cherish is back...for eight new episodes of 'The Comeback.' Cameras follow Cherish as she makes yet another leap toward TV stardom, this time playing a version of herself on HBO's drama 'Seeing Red.'

Säsong 1

2005 | 13 avsnitt
Serien är skapad av
Michael Patrick King

Lisa Kudrow