The Last Alaskans
In 1980, the U.S. government banned new human occupation in the Arctic National Wildlife Refuge in Alaska, a protected area, home to thousands of native animals and pristine terrain spanning roughly the size of South Carolina. Currently, only a handful of families spread across seven permitted cabins are allowed to remain in the refuge. Within less than 100 years, all remaining permits will reach expiration, and there will be no human presence left.
Senaste inspelade avsnittet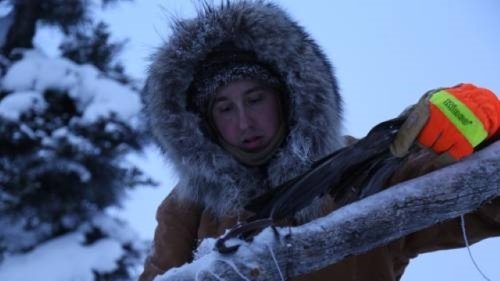 Laying Down Their Legacy
2019-01-27 | avsnitt 10
Scrambling to finish trapping season, Heimo discovers the best catch so far: a wolf. Charlie walks a legend's footsteps as he works the traplines Bob left to him. Tyler takes on the challenge of getting their hunting cabin ready for next season.
Säsonger för The Last Alaskans
Säsong 4

2018 | 10 avsnitt

This season, The Last Alaskans face obstacles brought on by the unforgiving environment, including rising predator competition and the aftermath of forest fires, as well as the deeply personal challenges. After 40 years in the Alaskan Wilderness, due to the return of his cancer, Bob Harte must move away from the refuge and into town with his daughter and granddaughter. We will follow Bob's hard-fought battle to the end and get the chance to say goodbye. For Heimo and Edna Korth, this season brings an opportunity they have dreamt of for years: their daughter Krin and her family will attempt to survive a winter in the refuge. There's also another new face this season, as Tyler and Ashley Selden bring their baby girl Sidney into the refuge. They look to improve their property and face the challenge of balancing the demands of being parents, as well as providers for their newest member. Charlie Jagow faces one of his toughest challenges this season in the aftermath of the summer fires. He must re-establish 40 years' worth of family traplines. These families and trappers will be challenged like never before as they look to continue the unique life they've built in the refuge.

Säsong 3

2017 | 9 avsnitt

As the Artic Refuge's final permit holders seek prosperity in a hungry land, a new generation steps into this age-old way of life. Eager young trappers, Tyler and Ashley Selden, and Charlie Jagow fully commit to a life among North America's most isolated, modern day pioneers. Aside from the day-to-day challenges, Tyler and Ashley face another surprise this season - welcoming their first child. Meanwhile, Bob Harte faces his mortality and flees the Alaskan winter and after 40 years in the bush, the legendary Heimo Korth yearns to pass the torch to his daughter Krin. In an unexpected twist, both new and old generations must now learn how to survive a winter with much lighter snowfall than past. The families have always relied on heavy snow for their mobility to trap. Without solid snow fall, dog sleds and snow machines are of no use. This winter's wolf packs move closer to the cabins, making trapping by foot all the more perilous. With pressure on their livelihood like never before, will The Last Alaskans overcome the tribulations that lie ahead this winter or will the homestead and its memories simply return to the wilderness?

Säsong 2

2016 | 8 avsnitt

The Last Alaskans are joined by extended family members, with some members traveling to the refuge by boat for the first time in 20 years. Bob Harte and his daughter, Talicia, embark on a dangerous river journey from Fairbanks to the cabin where she was raised decades ago. Heimo Korth breaks ground on a new cabin with wife Edna, his daughters and grandchildren. The Lewis family journey back to their old homestead, navigating upriver through Alaska's interior on a house boat constructed over the past decade by patriarch Ray. Tyler and Ashley Selden continue to gain experience in the wilderness and contemplate adding a new member to their family. And 19-year-old Charlie Jagow, who was born in the refuge and remains one of the youngest permit-holders there, returns to build his first cabin.
Visa alla säsonger