The Night Manager
Former British soldier Jonathan Pine navigates the shadowy recesses of Whitehall and Washington where an unholy alliance operates between the intelligence community and the secret arms trade. To infiltrate the inner circle of lethal arms dealer Richard Onslow Roper, Pine must himself become a criminal.
Skådespelare
Nancy Baldwin

Jed's Mother

Tom Hiddleston

Jonathan Pine

Elizabeth Debicki

Jed Marshall

David Harewood

Joel Steadman

Katherine Kelly

Permanent Secretary

Tobias Menzies

Geoffrey Dromgoole

Neil Morrissey

Harry Palfrey

Alistair Petrie

Sandy Langbourne

Jonathan Aris

Raymond Galt

Douglas Hodge

Rex Mayhew

Hugh Laurie

Richard Onslow Roper

Olivia Colman

Angela Burr

Tom Hollander

Lance Corkoran

Michael Nardone

Frisky

Aure Atika

Sophie Alekan

Antonio de la Torre

Juan Apostol

Adeel Akhtar

Rob Singhal

Hovik Keuchkerian

Tabby

Natasha Little

Caroline Langbourne

Russell Tovey

Simon Ogilvey
Visa fler skådespelare
Kommande sändningar
TV4, Imorgon kl.01:35
Senaste inspelade avsnittet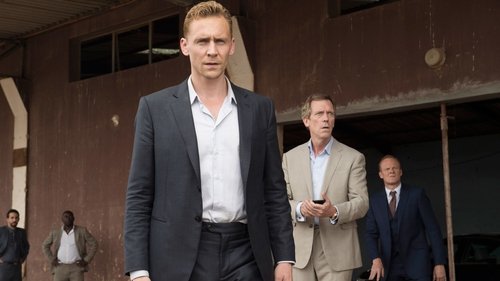 Episode 6
2016-03-27 | avsnitt 6
Roper and his team return to Cairo for the deal, reuniting Pine with an old enemy. Pine risks it all to put his plan in motion. A discredited Burr makes one last stand.
Säsonger för The Night Manager

Serien är skapad av
David Farr