Treme
Tremé takes its name from a neighborhood of New Orleans and portrays life in the aftermath of the 2005 hurricane. Beginning three months after Hurricane Katrina, the residents of New Orleans, including musicians, chefs, Mardi Gras Indians, and other New Orleanians struggle to rebuild their lives, their homes and their unique culture.
Skådespelare
Khandi Alexander

LaDonna Batiste-Williams

Rob Brown

Delmond Lambreaux

Kim Dickens

Janette Desautel

India Ennenga

Sofia Bernette
Visas på följande playtjänster
Kommande sändningar
Inga tablålagda sändningar de närmsta sju dagarna.
Senaste inspelade avsnittet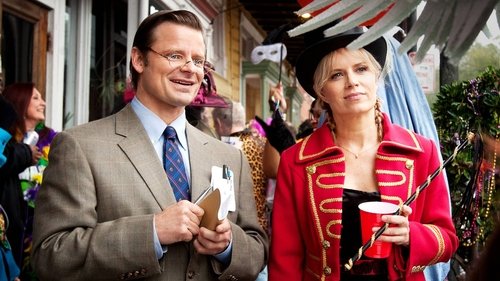 ...To Miss New Orleans
2013-12-29 | avsnitt 5
Davis gets a "job, job"; Colson gets his transfer too little too late. Batiste runs into a couple of old Mardi Gras friends; LaDonna and the boys do Mardi Gras day; Bernette and Sofia salute Creighton and carry out their Mardi Gras tradition; LP Everett experiences his second Mardi Gras in a row. Annie butts heads with Marvin Frey in the studio. Hidalgo cashes out -- but pays it forward.
Säsonger för Treme
Säsong 4

2013 | 5 avsnitt

New Orleans, 38 months after. The city's musicians, chefs, Mardi Gras Indians, and others continue to rebuild their lives in the aftermath of Hurricane Katrina. But the promise of recovery – heightened by the historic election of a new presidente – is tempered by sobering economics, continued police corruption, and the ongoing specter of violence and crime. In these final five episodes of Treme, New Orleans' protagonists strive to build their own legacy in this most iconic of American cities.

Säsong 3

2012 | 10 avsnitt

Säsong 2

2011 | 11 avsnitt

Säsong 1

2010 | 10 avsnitt
Visa alla säsonger