True Blood
True Blood is an American television drama series created and produced by Alan Ball. It is based on The Southern Vampire Mysteries series of novels by Charlaine Harris, detailing the co-existence of vampires and humans in Bon Temps, a fictional, small town in northwestern Louisiana. The series centers on the adventures of Sookie Stackhouse, a telepathic waitress with an otherworldly quality.
Skådespelare
Anna Paquin

Sookie Stackhouse

Stephen Moyer

Bill Compton

Alexander Skarsgård

Eric Northman

Ryan Kwanten

Jason Stackhouse
Visas på följande playtjänster
Kommande sändningar
Inga tablålagda sändningar de närmsta sju dagarna.
Senaste inspelade avsnittet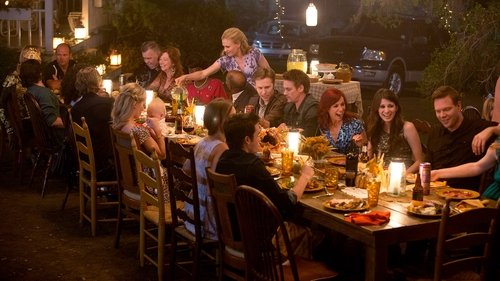 Thank You
2014-08-24 | avsnitt 10
Sookie weighs a future with and without Bill. Eric and Pam struggle with their uncomfortable partnership with Mr. Gus. Sam makes a choice, while Andy comes upon an unexpected inheritance. Series Finale.
Säsonger för True Blood
Säsong 7

2014 | 10 avsnitt

Säsong 6

2013 | 10 avsnitt

The sixth season of the HBO supernatural drama series True Blood premiered on June 16, 2013. The season had an abbreviated run of ten episodes, as opposed to the usual twelve, partially to accommodate the pregnancy of lead actress Anna Paquin. It is also the first season not to be primarily based on the corresponding novel in The Southern Vampire Mysteries series, instead taking elements from multiple books in the series.

Säsong 5

2012 | 12 avsnitt

The fifth season of the HBO supernatural drama series True Blood premiered on June 10, 2012 and features twelve episodes, bringing the series total to 60. It picks up right after the events of season four. It is loosely based on the fifth book in The Southern Vampire Mysteries series, Dead as a Doornail, but incorporates much more of the following books than the previous seasons have.

Säsong 4

2011 | 12 avsnitt

The fourth season of the television series True Blood contains 12 episodes, bringing the series total to 48. The season premiered on June 26, 2011. Though the storyline picks twelve and a half months after the events of season three; the season still begins immediately after final scene of "Evil Is Going On". It is loosely based on the fourth novel in The Southern Vampire Mysteries series, Dead to the World.

Säsong 3

2010 | 12 avsnitt

The third season of the television series True Blood premiered on June 13, 2010 simultaneously on HBO and HBO Canada. It concluded its run on September 12, 2010 and contained 12 episodes, bringing the series total to 36. It loosely follows the plot of the third novel of The Southern Vampire Mysteries series, Club Dead.

Säsong 2

2009 | 12 avsnitt

The second season of the television series True Blood commenced airing in the United States on June 14, 2009, concluded on September 13, 2009, and contains 12 episodes. It is loosely based on the second novel of The Southern Vampire Mysteries, Living Dead in Dallas. The second season explores telepath Sookie Stackhouse's relationship with her vampire lover, Bill Compton. It also introduces a number of sub-plots involving the anti-vampire Fellowship of the Sun church and Jason Stackhouse's indoctrination into the church by its leaders, Rev Steve Newlin and his wife Sarah. It also expands the role of Maryann Forrester, a powerful supernatural creature, who slowly gains control over the people of Bon Temps. Sookie and Bill travel to Dallas to help Eric find his maker, a two-thousand-year-old vampire named Godric, who has gone missing and is believed to have been kidnapped by the Fellowship of the Sun. The second season aired Sundays at 9:00 PM in the United States. The season finale aired on September 13, 2009.

Säsong 1

2008 | 12 avsnitt

The first season of the American television drama series True Blood premiered on September 7, 2008 and concluded on November 23, 2008. It consists of 12 episodes, each running approximately 55 minutes in length and was, for the most part, based on the novel Dead Until Dark, the first entry in The Southern Vampire Mysteries by Charlaine Harris. The story takes place in the fictional town of Bon Temps, Louisiana, two years after vampires have made their presence known to mankind, and follows telepathic waitress Sookie Stackhouse as she attempts to solve a series of murders that seem to be motivated by a hatred of vampires. HBO broadcast the first season on Sunday nights at 9:00 pm in the United States, with a repeat showing at 11:00 pm. The complete first season was released on DVD and Blu-ray on May 19, 2009.

Specials

2008 | 13 avsnitt
Visa alla säsonger
Kategorier
Drama
Sci-Fi & Fantasy
Såpopera