Wheeler Dealers
Experienced car dealer Mike Brewer is joined by multi-talented mechanics in a monumental motoring mission: to find and restore iconic cars to later sell for a profit at their LA-based shop. In the series, Mike has the challenging job of finding vehicles that have money-making potential. He then hands them over to a mechanic, who tackles everything from bare metal re-sprays to gearbox swaps to bring them back to their former glory.
Skådespelare
Mike Brewer

Self - Presenter

Marc Priestley

Self - Presenter
Visas på följande playtjänster
Senaste inspelade avsnittet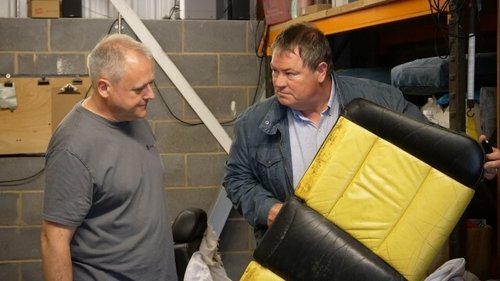 VW Golf Cabriolet
2021-11-08 | avsnitt 10
Work Completed: Rusted rear wheel arch patched with parts from a replacement wheel arch, stock suspensions replaced with adjustable aftermarket coilovers, wheels refurbished by repainting the wheel and diamond-cutting the rim, electric convertible roof re-wired, cracked windscreen replaced, leather seats recolored, exterior polished. Notes: Limited edition "Color Concept" variant with yellow paint and trim. Bought on behalf of Marc as it reminds him of his very first car, a bright yellow Volkswagen Beetle. Seller provided a brand-new replacement windscreen as part of the deal. Marc noted the car's rarity, as there are only 4 bright yellow Golf of similar type is still on the road. Mike introduced the process of connollising, a leather restoration method named after the Connolly Leather. In order to enable the convertible top to work, Marc re-wired the mechanism so the roof can only be lowered if the driver steps on the brake pedal.
Säsonger för Wheeler Dealers
Säsong 21

2021 | 10 avsnitt

Car dealer Mike Brewer is back in the UK! Along with ace mechanic Marc 'Elvis' Priestley, he's on a mission to find and restore iconic cars to sell for a profit.

Säsong 20

2020 | 8 avsnitt

Säsong 19

2020 | 8 avsnitt

Säsong 18

2019 | 12 avsnitt

Säsong 17

2019 | 6 avsnitt

Säsong 16

2018 | 9 avsnitt

Säsong 15

2018 | 9 avsnitt

Master mechanic Ant Anstead and automotive valuation expert Mike Brewer are back to work; Mike is hunting down a variety of gently used cars then handing the keys off to Ant for a bumper-to-bumper refurbishment before trying to sell the cars for a healthy profit. This season features a wealth of incredible rides including: a 1969 Opel GT; a 1988 Jeep Grand Wagoneer; a 2004 Mini Cooper S MC40; a 1987 Alfa Romeo Spider Quadrifoglio; a 1970 International Harvester Scout 800A; and much more.

Säsong 14

2017 | 9 avsnitt

Experienced car dealer Mike Brewer is joined by multi-talented mechanic Ant Anstead in a monumental motoring mission: to find and restore iconic cars to later sell for a profit at their LA-based shop. In season 14, Mike has the challenging job of finding vehicles that have money-making potential. He then hands them over to Ant, who tackles everything from bare metal re-sprays to gearbox swaps to bring them back to their former glory. From the sunny beaches of southern California to the coldest edges of Maine, the guys scour the US from coast-to-coast for the best vehicles to buy, restore, test and sell for a tidy profit. What treasures will they find and flip on their epic adventures?

Säsong 13

2016 | 18 avsnitt

Series 13 has a new format, with revised theme music. This is the final series to feature Edd. The series features the restoration of 16 cars; episodes numbered 9 and 18 are compilation episodes. With the exception of episode 16, this series was set completely in the U.S.

Säsong 12

2015 | 20 avsnitt

For more than a decade, Mike Brewer and Edd China have found, fixed, flipped, tested and traded over 100 cars on the international market. This season, Car legends Mike Brewer and Edd China are taking the biggest risk of their car careers. Wheeler Dealers moves their headquarters from London to a scenic shop nestled on the California coast, in the most exciting and competitive car market in the world. From the sunny beaches of California to the coldest edges of Maine, Mike hunts coast-to-coast for the best vehicles to buy, restore, test and sell for a tidy profit. Mike will also travel to the UK, Russia, Italy, Poland and Spain to track down cars in need of serious TLC, before heading back to Edd's workshop.

Säsong 11

2014 | 15 avsnitt

Säsong 10

2013 | 12 avsnitt

Säsong 9

2012 | 15 avsnitt

Säsong 8

2011 | 10 avsnitt

Säsong 7

2010 | 10 avsnitt

Säsong 6

2009 | 20 avsnitt

Säsong 5

2008 | 12 avsnitt

Säsong 4

2006 | 12 avsnitt

Säsong 3

2005 | 12 avsnitt

Säsong 2

2004 | 12 avsnitt

Säsong 1

2003 | 12 avsnitt
Visa alla säsonger