Wheeler Dealers
Experienced car dealer Mike Brewer is joined by multi-talented mechanics in a monumental motoring mission: to find and restore iconic cars to later sell for a profit at their LA-based shop. In the series, Mike has the challenging job of finding vehicles that have money-making potential. He then hands them over to a mechanic, who tackles everything from bare metal re-sprays to gearbox swaps to bring them back to their former glory.
Skådespelare
Mike Brewer

Himself - Presenter

Ant Anstead
Senaste inspelade avsnittet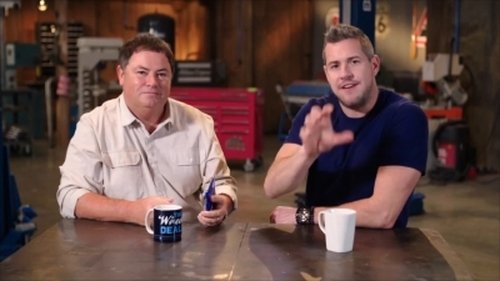 Petrolhead Takeover
2018-11-28 | avsnitt 9
The fans take the wheel as Mike and Ant spend the day answering questions from across the globe. In the process, they pull the curtain back on the inner workings of Wheeler Dealers and take look back at the last eight cars.
Säsonger för Wheeler Dealers
Säsong 15

2018 | 9 avsnitt

Säsong 14

2017 | 18 avsnitt

Series 14 marks the debut of Ant Anstead as the programme's new mechanic.

Säsong 13

2016 | 18 avsnitt

Series 13 has a new format, with revised theme music. This is the final series to feature Edd. The series features the restoration of 16 cars; episodes numbered 9 and 18 are compilation episodes. With the exception of episode 16, this series was set completely in the U.S.

Säsong 12

2015 | 20 avsnitt

Säsong 11

2014 | 15 avsnitt

Säsong 10

2013 | 12 avsnitt

Säsong 9

2012 | 15 avsnitt

Säsong 8

2011 | 10 avsnitt

Säsong 7

2010 | 10 avsnitt

Säsong 6

2009 | 20 avsnitt

Säsong 5

2008 | 12 avsnitt

Säsong 4

2006 | 12 avsnitt

Säsong 3

2005 | 12 avsnitt

Säsong 2

2004 | 12 avsnitt

Säsong 1

2003 | 12 avsnitt
Visa alla säsonger