Will & Grace
Will Truman and Grace Adler are best friends living in New York, and when Grace's engagement falls apart, she moves in with Will. Together, along with their friends, they go through the trials of dating, sex, relationships and their careers, butting heads at times but ultimately supporting one another while exchanging plenty of witty banter along the way.
Skådespelare
Eric McCormack

Will Truman

Megan Mullally

Karen Walker
Senaste inspelade avsnittet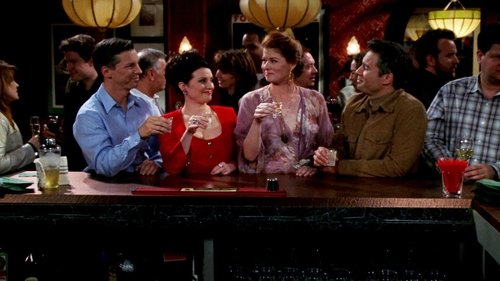 The Finale, Part ll
2006-05-18 | avsnitt 24
The culmination of eight seasons ends tonight with a one-hour series finale - will Will and Grace raise a child together and find ultimate happiness? Will Jack find anyone that loves him as much as he loves himself? Will Karen find true happiness with the absence of Stan? All these questions and more will be answered as this groundbreaking series concludes eight amazing seasons.
Säsonger för Will & Grace
Säsong 8

2005 | 24 avsnitt

Säsong 7

2004 | 24 avsnitt

Säsong 6

2003 | 24 avsnitt

Säsong 5

2002 | 24 avsnitt

Säsong 4

2001 | 27 avsnitt

Säsong 3

2000 | 25 avsnitt

Säsong 2

1999 | 24 avsnitt

Säsong 1

1998 | 22 avsnitt

The first season of Will & Grace premiered on September 21, 1998, and concluded on May 13, 1999. It consisted of 22 episodes.
Visa alla säsonger