The Bachelor
A single bachelor dates multiple women over several weeks, narrowing them down to hopefully find his true love.
Skådespelare
Chris Harrison

Himself - Host

Colton Underwood

Himself - The Bachelor
Kommande sändningar
Inga tablålagda sändningar de närmsta sju dagarna.
Senaste inspelade avsnittet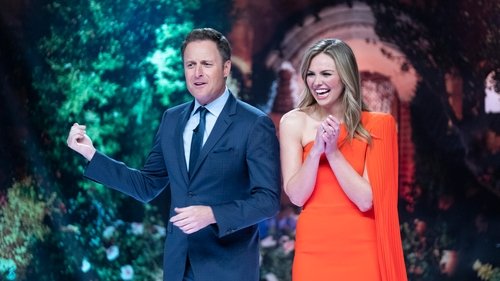 Season Finale, Part 2
2019-03-12 | avsnitt 12
Colton discusses the final days of his journey with Chris Harrison. Plus, Demi, Onyeka, Sydney, Jason Tartick and Chris Randone speculate on the season's conclusion.
Säsonger för The Bachelor
Säsong 23

2019 | 12 avsnitt

Colton Underwood burst onto the scene during season 14 of "The Bachelorette." It was his good looks, love for dogs and vulnerability that charmed not only Bachelorette Becca Kufrin, but all of Bachelor Nation. This former NFL player made a play for Becca's heart but was sadly sent home after professing he had fallen in love. Now Colton is back and ready to capture hearts across America yet again when he returns for another shot at love.

Säsong 22

2018 | 12 avsnitt

Six years ago, Arie Luyendyk Jr. was in love and a day away from proposing to the woman of his dreams. And then, she broke his heart. Emily Maynard (now Emily Maynard Johnson) may not have been Arie's future wife, but he hasn't been able to find a love like hers since. Now Arie is back and ready to race into America's heart yet again when he returns for a second shot at love, starring in the 22nd season.

Säsong 21

2017 | 13 avsnitt

When Bachelorette Andi Dorfman said goodbye to Nick Viall just as he was preparing to pick out a ring for her, he was devastated. When Nick walked up to Kaitlyn Bristowe with an engagement ring in his pocket, only to be sent home, he was crushed. How could one man endure so much heartbreak? If you believe that "what doesn't kill you makes you stronger," Nick Viall, 36 from Milwaukee, Wisconsin, is back stronger than ever, ready and eager to begin his search for true love on the 21st season.

Säsong 20

2016 | 13 avsnitt

Säsong 19

2015 | 13 avsnitt

Säsong 18

2014 | 13 avsnitt

Säsong 17

2013 | 14 avsnitt

The seventeenth season of The Bachelor premiered on January 7, 2013. This season features 28-year-old Sean Lowe, a former Kansas State football player from McKinney, Texas. Lowe placed third as a contestant during the eighth season of The Bachelorette with Emily Maynard.

Säsong 16

2012 | 12 avsnitt

The Bachelor: Season 16 is the 16th season of ABC reality television series The Bachelor. The season premiered on January 2, 2012. This show features a previous contestant from The Bachelorette, a winemaker and owner of Envolve wines, from Sonoma, California, Ben Flajnik, who finished runner-up in the seventh season of that show. This season returns with 25 women featured in the competition, excluding a senior citizen.

Säsong 15

2011 | 12 avsnitt

The Bachelor: Season 15 is the 15th season of ABC reality television series The Bachelor. The season premiere aired on January 3, 2011. 38-year old Brad Womack, who previously appeared as the Bachelor in season 11, where he rejected both of his final two women, returned as the Bachelor for this season, counting 30 women, unlike the 25 in previous seasons. Womack became the first bachelor on The Bachelor twice.

Säsong 14

2010 | 11 avsnitt

The Bachelor: Season 14 is the 14th season of ABC reality television series The Bachelor. The season premiere aired on January 4, 2010. The show features a previous contestant from The Bachelorette, and a pilot from Dallas, Texas, Jake Pavelka, counting 25 women. It is the first season of The Bachelor to be broadcast in high definition.

Säsong 13

2009 | 12 avsnitt

The Bachelor 13 is the thirteenth season of ABC reality television series The Bachelor. The season premiere aired on January 5, 2009. The show features a previous contestant from the ABC show The Bachelorette and the series' first single parent from Kirkland, Washington, Jason Mesnick, counting 25 women. Mesnick became the second former The Bachelorette suitor ever competed on The Bachelor since Bob Guiney of season 1 of The Bachelorette and season 4 of The Bachelor.

Säsong 12

2008 | 10 avsnitt

The Bachelor: Season 12 is the twelfth season of ABC reality television series The Bachelor. The season premiere aired on March 17, 2008. The show features British bachelor, Matt Grant and making the first bachelor outside of North America, counting 25 women from the United States. This was the final season to be aired in 90 minutes.

Säsong 11

2007 | 9 avsnitt

The Bachelor 11 is the 11th season of ABC reality television series The Bachelor. The season premiere aired on September 24, 2007. The show features the winemaker from Austin, Texas, Stephen Bradley Womack, courting 25 women. On November 19, 2007, during the final rose ceremony, Brad Womack became the first bachelor in the history of the show to reject all of the bachelorettes.

Säsong 10

2006 | 9 avsnitt

season 6

2004 | 10 avsnitt

Säsong 5

2004 | 8 avsnitt

The Bachelor (season 5) is the fifth season of ABC reality television series The Bachelor. The season premiered on April 7, 2004. The show featured the first non-American bachelor, Jesse Palmer, courting 25 women.

Säsong 4

2003 | 10 avsnitt

Säsong 2

2002 | 11 avsnitt
Visa alla säsonger