Flight of the Conchords
The trials and tribulations of a two man, digi-folk band who have moved from New Zealand to New York in the hope of forging a successful music career. So far they've managed to find a manager (whose "other" job is at the New Zealand Consulate), one fan (a married obsessive) and one friend (who owns the local pawn shop) -- but not much else.
Skådespelare
Bret McKenzie

Bret McKenzie

Jemaine Clement

Jemaine Clement
Visas på följande playtjänster
Kommande sändningar
Inga tablålagda sändningar de närmsta sju dagarna.
Senaste inspelade avsnittet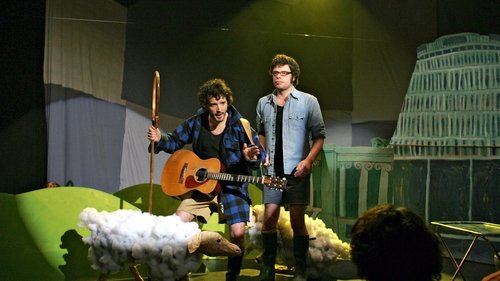 Evicted
2009-03-22 | avsnitt 10
Bret and Jemaine can't afford to pay their rent and are forced to move in with Mel and Doug, and Murray believes they can make some money with a theatrical production about the band.
Säsonger för Flight of the Conchords
Säsong 2

2009 | 10 avsnitt

Säsong 1

2007 | 12 avsnitt

Specials

2005 | 34 avsnitt
Serien är skapad av
Jemaine Clement

Bret McKenzie