Rome
Efter segern över gallerna år 52 f Kr återvänder Gaius Julius Caesar med sin armé till Rom. Den styrande patricierklassen är rädd att därigenom förlora sitt välstånd. Medlemmar i senaten konspirerar mot Caesar, som vill genomdriva sociala förändringar. Caesars vän Pompejus Magnus slits mellan deras vänskap och sin samhällsställning. Vid fronten utmärker sig de två soldaterna Lucius Vorenus och Titus Pullo. Man får följa händelserna huvudsakligen genom deras ögon. De dras in i omvälvande händelser. Medan Caesar närmar sig Rom sätts allianser på prov och de ökade spänningarna utmynnar i en konflikt som förändrar historien.
Skådespelare
Kevin McKidd

Lucius Vorenus

Ciarán Hinds

Julius Caesar

Polly Walker

Atia of the Julii
Visas på följande playtjänster
Kommande sändningar
Inga tablålagda sändningar de närmsta sju dagarna.
Senaste inspelade avsnittet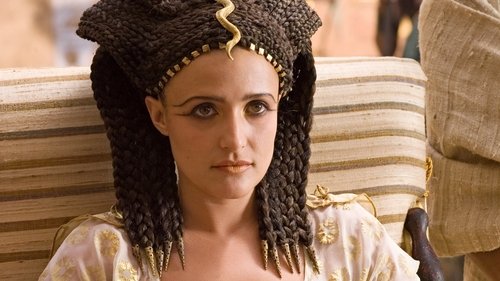 De Patre Vostro (About Your Father)
2007-03-25 | avsnitt 10
Following his naval defeat at Actium, Marc Antony returns to Egypt, where he and Cleopatra settle into a world of debauchery. Octavian tries to use Pullo as leverage to Vorenus to gain acess to the palace, but Vorenus stays loyal to Antony. Finally, it is Cleopatra who dupes Antony, saving her own life by sacrificing her honor. Ceasar Augustus triumphs in Rome.
Säsonger för Rome
Säsong 2

2007 | 10 avsnitt

Season two's storyline picks up right where season one left off: with the 44 B.C. assassination of Gaius Julius Caesar and the near-simultaneous death of Niobe, wife of Caesar's faithful bodyguard Lucius Vorenus. Diverted from his post after learning that Lucius, his assumed grandson, was in fact Niobe's illegitimate son, Vorenus now descends into near-madness over his failure to protect Caesar, his role in his spouse's death, and the rumored murder of his estranged daughters.

Säsong 1

2005 | 12 avsnitt

Season one begins in 52 B.C. as Gaius Julius Caesar completes his quest of Gaul after eight years of war and prepares to return with his army to Rome. But while Caesar's self-interested niece Atia and long-lost paramour Servilia anxiously await his return, the ruling patricians despair that Caesar's homecoming will disrupt the status quo. As Caesar's legions move closer to Rome, allegiances are put to the test for both soldiers and civilians — and the escalating tensions climax with a full-scale conflict destined to change history.
Serien är skapad av
John Milius

William J. MacDonald

Bruno Heller