Suits
While running from a drug deal gone bad, Mike Ross, a brilliant young college-dropout, slips into a job interview with one of New York City's best legal closers, Harvey Specter. Tired of cookie-cutter law school grads, Harvey takes a gamble by hiring Mike on the spot after he recognizes his raw talent and photographic memory.
Skådespelare
Gabriel Macht

Harvey Specter

Sarah Rafferty

Donna Paulsen

Amanda Schull

Katrina Bennett
Visas på följande playtjänster
Senaste inspelade avsnittet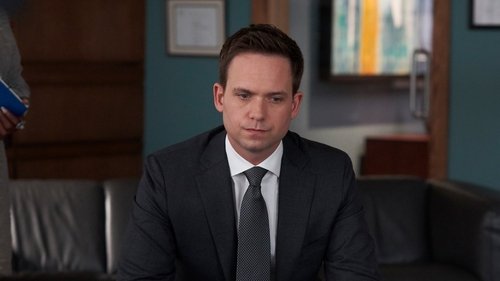 One Last Con
2019-09-25 | avsnitt 10
Facing its potential destruction, the partners must go all in to save the firm.
Säsonger för Suits
Säsong 9

2019 | 10 avsnitt

As the firm chafes under intense new oversight, each partner faces a reckoning -- and Mike Ross returns to square off against his old mentor, Harvey.

Säsong 8

2018 | 16 avsnitt

In the wake of two emotional departures, Harvey and the rest of Specter Litt face an infusion of ambitious new blood and chart a daring new course.

Säsong 7

2017 | 16 avsnitt

Now that Mike is officially recognized as a lawyer and has accepted Harvey's offer to return to the firm, Season 7 will see the team back together again at Pearson Specter Litt - each dealing with their own struggles as they adjust to a new world order without Jessica .

Säsong 6

2016 | 16 avsnitt

In the aftermath of the trial, Mike faces the realities of his situation while Jessica, Harvey and Louis grapple to contain the firm's vulnerability.

Säsong 5

2015 | 16 avsnitt

Harvey regroups in the wake of Donna's departure, Mike and Rachel edge closer to marriage, and Jessica continues to come to grips with her new life.

Säsong 4

2014 | 16 avsnitt

In Season 4, Harvey and Mike find themselves on opposite sides of a corporate takeover battle that draws attention from the government.

Säsong 3

2013 | 16 avsnitt

Skilled corporate lawyer Harvey Specter and his associate Mike Ross continue their unusual partnership in this season of the smart courtroom drama.

Säsong 2

2012 | 16 avsnitt

As Harvey focuses on protecting Mike's position, Jessica deals with the fallout after the unexpected reappearance of her co-founding partner.

Säsong 1

2011 | 12 avsnitt

The story follows Mike Ross, a brilliant college dropout who is hired by Harvey Spector, New York City's top corporate lawyer as his associate attorney.

Specials

2012 | 30 avsnitt
Visa alla säsonger